Variations on a legend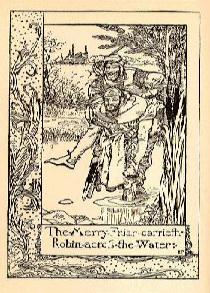 The Robin Hood legend has been going strong for over 600 years. The outlaw hero has been the star of ballads, poems, plays, novels, movies, comic books -- even a breakfast cereal. Not all of these have been great - some have been downright awful. All of them are a testament to the enduring popularity of Robin Hood - and all are worth mentioning. Well, nearly all. I'm not likely to do a column on the Prince of Thieves breakfast cereal.
Each month, I'll focus on a version of Robin's story -- good, bad or mediocre. Some entries will be on the best-known books and films. Other spotlights will shine a light on a more obscure interpretation. Previous spotlights will be stored in the archives.
Is there a great Robin Hood book, movie or TV show that you want to see celebrated? Or a real groaner that you'd love to see panned? Please e-mail me and let me know. I take requests.
Archives
For more information on Robin Hood movies and television shows, visit the Films and Fantasy section of my History of Robin Hood.
Also, visit Robin Hood Tales for an assortment of Robin Hood ballads (and other stories) with introductions