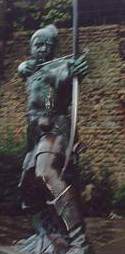 Check out the Robin Hood WebRings I belong to.
Robin Hood General and Scholarly Information, Ballad Collections and Stories
Robin of Sherwood -- The popular 1980s British Television Series
Other Robin Hood Movie, Television and Theatre Sites
Robin Hood Country -- Sites from Nottingham, Sherwood and Yorkshire
Robin Hoods of The World -- Sites dedicated to international Robin Hood-like figures
Medieval History -- Links on Robin Hood's time period
Order Robin Hood Books and Movies

Check out the main page of this site for far more information about Robin Hood.
| | |
| --- | --- |
| | The section of this site that explores the growth and development of the Robin Hood legend through the centuries. |
| | A look at the various real historical figures named Robin Hood and possible sources for other characters in the legend |
| | A great online resource -- this project collects ballads and plays (many with commentary from scholars Stephen Knight and Thomas Ohlgren), illustrations, bibliographies, film lists and more. |
| | Robin Hood Scholars on the Web. Updates on academic gatherings and informative blog posters about various aspects of the legend by top scholars. |
| | One of the oldest and best Robin Hood sites. |
| Maid Marian, Greenwood Lady | *CURRENTLY DOWN* Sherron Lux has a fine site dedicated Robin's greenwood girlfriend, an important legend in her own right. Sherron's also writing a book on the subject. |
| | A lovely collection of the ballads and music collected by Francis Child. It includes several Robin Hood ballads. |
| | American folk singer Bob Frank has translated this classic and early ballad into modern English. Read his translation and order a CD of his "talking blues" performance. Bob has captured the heart, soul and humour of this true classic. Highly recommended. |
| | The text of Howard Pyle's classic childrens' book online at Project Gutenberg. |
| | Another classic Robin Hood book online. |
| | Robin Hood appears as "Locksley". Although only a supporting character, this book had a major influence on the Robin Hood legend. The Literature Network's text includes a search engine of the book. |
| | Another classic 19th century novel, with a touch more satire than Ivanhoe. |
| | Three wonderful academic papers by Prof. Thomas Ohlgren. Some of the most important Robin Hood scholarship in recent years. |
| | A collection of various articles by top Robin Hood expert, Professor Stephen Knight |
| | Dr. Valerie B. Johnson summarizes the different resources for exploring the Robin Hood legend. ("Currently being re-archived." July 2015) |
| | The c. 1600 Life of Robin Hood read aloud by Dean Hoffman, supplemented with music. |
| | Official website for the award-winning fantasy author. She wrote The Outlaws of Sherwood. |
| | Official website for the author of The Forestwife series of Maid Marian young adult books. |
| | Official website of the writer of Robin and Marian mysteries, and a collection of Robin Hood comic book covers. |
| | Official website of the author of the recent Maid Marian novel. |
| | The OzFoxes have a good Robin Hood site, with reviews of Robin Hood books and information on how to be a modern-day Robin Hood. (Down in July 2015) |
| | A Yahoo Group dedicated to the Robin Hood legends. Post messages and chat. |
| | A group dedicated to you-know-who. |
| | An exploration of the pagan themes in the Robin Hood legend. |
| | Fifth Biennial Meeting of the International Association for Robin Hood Studies is being held from September 29 to October 2, 2005 at the University of Delaware in Newark, Delaware. |
| | A good overview of the outlaw legend. |
| | A good analysis of the outlaw legend by Robert Fortunaso. |
| | Green Arrow's the urban superhero inspired by Robin Hood. From a history with as many twists as the Sherwood outlaw. Scott McCullar's wonderful site seems lost to the ages, but Jayme Blaschke's shrine still exists if a little out of date. |
| | A rather morbid search engine. |
Website about a fabulous British TV show from the 1980's, and home of the official fan club, Spirit of Sherwood.
Join the e-mail discussion list about the TV series.
Come spend an entertaining day in a Nottingham dungeon, courtesy of Robin's enemy, Sir Guy and his secretary, Claire. And don't worry, I'm sure they've forgotten about that mass gaol break I led.
A superb website dedicated to Will Scarlet, particularly as played by Ray Winstone in Robin of Sherwood. The designer of this page redesigned my site.
Official fan club for the Loxley actor.
Nytshaed's tribute to RoS's first Robin Hood.
Dedicated to RoS's 2nd Robin Hood.
Actor, writer, swordmaster, Mark Ryan played Nasir, the first Arab Merry Man.
New Robin of Sherwood inspired fiction written by fans. Herne24's original site is no more, but this new link contains a lot of the fiction.
| | |
| --- | --- |
| Outlaws and Highwaymen by Gillian Spraggs | This site was designed and edited by Gillian Spraggs to be a companion to her 2001 book of the same name. It includes texts such as ballads, extracts from "Prose Lives", letters, satires, political commentary and more. An excellent resource on Robin Hood, Captain Hind and many other other crooks of fact and fiction.. |
| William Wallace | Scotland's national hero and the basis of Braveheart , starring Mel Gibson. Some believe Wallace's adventures influenced the Robin Hood legend. |
| Rob Roy | Another -- albeit much later -- Scottish hero. He also inspired films and novels. |
| Boudicca | Also known as Boadicea, this queen of the Celtic Iceni fought the Roman invaders of Britain. |
| Twm Siôn Cati | The Welsh Robin Hood (well, one of them.) |
| Ned Kelly: Australian Iron Outlaw | Australia's "Robin Hood". |
| Ustym Karmaliuk | "The Ukrainian Robin Hood". |
| Juraj Janosik | "The Slavic Robin Hood". |
| William Tell | The legendary Swiss archer. |
| Louis Riel | An important and controversial figure in Canadian history. |
| Billy the Kid | A real-life outlaw and murderer from the "Old West" of the United States. His legend has some Robin Hood elements. |
| Lampiano | Lampiano and his wife Maria Bonita were outlaws in early 20th century Brazil, leaders of the Cangaceiros. These vicious bandits have become the heroes of ballads, films and comic books. |
| The Phoolan Devi | India's late real-life Bandit Queen. |
| Zorro | This Spanish Californian hero is the fictional creation of Johnston McCulley. |
| Shuihu Zhuan / Suidoken -- The Outlaws of the Marsh | Also known as the legend of the Water Margin, Shuihu Zhuan is a classic of Chinese literature set in the 10th century and stars "Robin Hood-like" men and women. It's also popular in Japan, where it's known as Suikoden. |
| | |
| --- | --- |
| History at the Virtual Library | Lots of history links to a variety of countries and time periods. |
| ORB -- Online Reference Book For Medieval Studies | Essays, original sources and a whole lot more. |
| The Medieval Technology Pages | Learn about everything from cannons to rattraps. Fascinating. |
| GodeCookery.com | A great site with tonnes of medieval recipes and other historical information. |
| The Labyrinth | Medieval history studies. |
| Ian's English Calendar | Calculate when Easter and Pentecost were in 1649. Learn what day of the week June 15, 1215 was. Convert between New Style and Old Style dates. And more cool stuff! |
| Britannia -- Monarchs of Great Britain | Biographies of the kings and queens of England, including Richard the Lionheart, King John and the various Edwards. |
| Women in World History | Learn about great medieval women like Eleanor of Aquitaine, and women heroes from other time periods. |
| Women in the Middle Ages | This great site by Sherron Lux includes primary and secondary documents about medieval women of various social classes, women in medieval literature, articles on daily life and more. |
| The Cruades Project | Another superb site from the University of Rochester on the Crusades. In 20th and 21st century fiction, Robin Hood is often depicted as a Crusader. |
| The Camelot Project at the University of Rochester | A companion to their superb Robin Hood Project, this site collects stories, information and art about King Arthur and his knights. |
From Amazon.com
From Amazon.co.uk
From Amazon.ca
Do you know of any other Robin Hood sites that I should include? If so, please e-mail me!