August 2004
Robin Hood
By Antonia Fraser
Heirloom Library, 1955 [as Antonia Pakenham]
Griffin House, 1971 [as Antonia Fraser, with illustrations by Rebecca Fraser]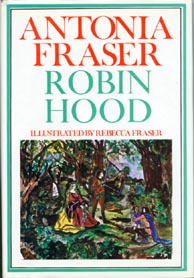 Best known now for her several biographies (on Oliver Cromwell, Mary Queen of Scots, Henry VIII and others) and her Jemima Shore mystery stories, when Lady Antonia Fraser was in her early twenties, she was commissioned to produce children's novels for the Marks & Spencer department store. She wrote King Arthur and the Knights of the Round Table and Robin Hood under her maiden name of Antonia Pakenham. In the early 1970s, these books were republished with illustrations by her then-13-year old daughter, Rebecca Fraser.
Like most Robin Hood children's novels, Fraser's book borrows heavily from the classic ballads. The classic meetings with Little John and Friar Tuck, the archery competition and the rescue of Alan-a-Dale's bride are all represented. But the book does not adhere as strictly to the old ballads as Howard Pyle's book does. There is much later material with nasty Normans and the tyranny of Prince John included. While the typical episodic nature of most Robin Hood books is present, there is almost a filmic structure in how Fraser adapts the stories. When Robin Hood carries a deer's head as he crashes Prince John's banquet, the scene is highly remiscient of a classic moment from the 1938 Adventures of Robin Hood movie starring Errol Flynn.
Since the Flynn film, quite a few Robin Hood stories have opened with Robin Hood rescuing a poacher from some vicious foresters. That's the case here. However, Fraser sets the scene on a snowy Christmas eve and Robin stays in the trees, refusing to reveal his presence. The defeated Normans also encounter a snowman with a crown. This snowy effigy of Prince John has one of Robin's green-feathered arrows sticking out of it. The words "Death to Prince John" are written in the snow. It's a very effective and evocative beginning.
In this novel, Robin is the only son of the Earl of Locksley. When his father left for the Third Cruade, Robin became the ward of the Sheriff of Nottingham. In order to claim Robin's inheritance, the Sheriff and the barons Guy of Gisborne and Oswald Montdragon frame Robin Hood for an assassination attempt on Prince John. Robin's noble upbringing seems to give him an authoritarian streak, at least when he's in a bad mood. When told about Friar Tuck, Robin's reaction is somewhat unpleasant.
'Either he bows to Robin Hood, or he leaves the Forest of Sherwood,' he cried, 'for I can tolerate no rebels here. Root and branch, they must be cleared from my path. The time has come to have a thorough destruction of all those rebellious characters who have grown up like weeds during my absence.' Then he bade Little John command the seditious friar to send some token of his obeisance to the Lord of Sherwood.

-- p. 104
Robin's stance against rebels may seem a tad hypocritical given his own outlaw status and trickster actions. But Fraser employs the "race card" common in modern Robin Hood stories - oppressive Normans. Prince John asks banquet guests "We are all good Normans here, are we not united in hatred of the Saxon race?" (p. 170) And it would appear the Saxons have an equal hatred of Normans as Tuck justifies robbery by saying "The Normans are an ungodly crew, and it is no more than they deserve". (p. 107) King Richard is portrayed as someone who treats both races fairly. Fraser frequently uses the Saxon and Norman racial politics, but not as obnoxoiusly as Gilson's novel does.
The most dated element of Fraser's book is the portrayal of the women characters. Kate the Kitchen Maid is prone to shrieking for help and is described as a "foolish wench" and a "brainless fool". Kate only comes to trust the outlaws when she realizes "how good-looking all the robbers were". And romantic desires are also the motivation for the treacherous "Black Barbara" Nevill, who is jealous of her friend Marian. Black Barbara appears to be a new character, although ultimately she plays a role well-known in other versions of the legend. And as for Maid Marian - well, at least Marian is in the novel (unlike Howard Pyle's book) and she helps Robin Hood escape from prison. But Marian also says things like "I feel so weak and frightened!" Fraser's Marian is inferior to the Peacock-inspired defiant and adventurous Marian that appears in Roger Lancelyn Green's Robin Hood children's book from the 1950s.
If Marian is somewhat weaker than she is in other children's books, Will Scarlett has been given a much greater part. It's Will who plans the outlaw's first ambush, who suggests giving money to the poor and ultimately who helps Robin Hood shoot his final arrow (taking over Little John's traditional role). Robin describes Will by saying "this is my head, who does my thinking for me." One has to wonder why Will isn't officially leading the band, because he's the leader in all but name. Perhaps the Merry Men were offended when Will told them "Outlaws, indeed! You are behaving like foolish Norman zanies!" (p. 38)
Fraser's Robin Hood is somewhat above average in terms of Robin Hood children's books. There are some clunky lines, like the "zanies" remark, but generally the book flows well. Aside from the occasional "Zounds!", the book is relatively free of the pseudo-medievalisms that bog down other Robin Hood books. It is not a particularly challenging book, nor one that adds a great deal to the legend. However, the book does fufill its mandate as a decent retelling for youngsters.
The 1971 edition includes colourful paintings and line drawings by Rebecca Fraser. They are fairly primitive, which isn't surprising given the artist was only entering her teens at the time, but there is a charm and power to them. The art looks similar to what the young readers of this book could produce.
All page references are to the 1971 edition, published by Griffin House in Toronto (apparently it was published by Sidgwick and Jackson Ltd. in the United Kingdom).
If you're interested in Antonia Fraser's Robin Hood, you might be interested in: