July 1998
Robin and the 7 Hoods
starring Frank Sinatra, Dean Martin,
Sammy Davis, Jr. and Bing Crosby
directed by Gordon Douglas
(P-C Productions, 1964)
This is an oddity among Robin Hood films, but one I found delightful.
Robin and 7 Hoods updates the legend of Robin Hood by placing it in gangland Chicago.
It's the last of four films by Sinatra and his crony crooners called the Rat Pack. (A term Sinatra didn't like, preferring the Clan.)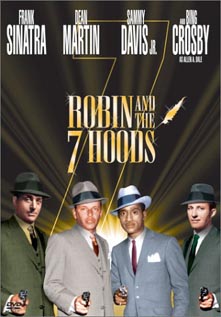 Frank Sinatra (who also produced the movie) is Robbo, an underdog in the underworld who gains fame when he donates some cash to the orphanage. Dean Martin supports him as Little John, a pool hustler from Indiana. (The classic quarterstaff duel between Robin and Little John is cleverly transformed into a pool game.) Sammy Davis Jr. plays a gun-totting Will. Marian (Barbara Rush) is the daughter of an old mob boss who's willing to use anyone to get her way. Peter Falk plays rival gangleader Guy Gisborne with a Colombo charm. But the most delightful character is Bing Crosby as Allen A. Dale, a dandy with a matchless vocabulary that baffles everyone around. ("It must be his throat.")
The Robin Hood legend translates surprisingly well to its new surrounding, especially when played for laughs. Many traditions are overturned, like having Robbo reduced to poverty at the film's end. As he's chased out of his office by a women's league, Robbo declares "I can fight hoods, I can fight crooked cops, but I can't fight the people."
For hundreds of years the legend has been reforming Robin Hood. It's interesting to see him played as a gangster. In many ways, that's exactly what the original Robin Hood was. However, because the film is a comedy and he has a social conscience of sorts, it is still "safe".
My favourite scene has to be when Robbo rebuilds his club to make it "knock-proof". The deputy sheriff and Gisborne try to raid the place on opening night. But a lever is pulled. Walls turn around, tables flip over. And when the police come busting through the door, all they find is a revivalist meeting singing about the dangers of alcohol. It's a trick worthy of the original Robin himself.
I also like Gisborne's calls to the stone mason.
Apparently a kidnapping scene was filmed, but cut because Sinatra's own son was kidnapped before the movie's release.
New songs were composed by Sammy Cahn and James Van Heusen. My favourite song is the Crosby-led "Mr. Booze" from the above-mentioned revivalist scene. But the most memorable for Sinatra fans would be "My Kind of Town".
I'm not a huge fan of musicals, and I'm even less of a Sinatra fan. But I still enjoyed this movie. I don't think it's going to have a lasting impact on the legend. It doesn't need to. It was fun.
Order the Region 1 (North American only) Robin and the Seven Hoods DVD on Amazon.com
For more information on Robin Hood movies and television shows, visit the Films and Fantasy section of my History of Robin Hood.