May 2000
Robin Hood in Popular Culture:
Violence, Transgression, and Justice
edited by Thomas Hahn
and
"Playing with Transgression:
Cultural Transformations of Robin Hood"
The 1st international conference of Robin Hood studies
University of Rochester -- October 1997.
This is a double spotlight of sorts.
First, there's a book that you can buy or check out of an academic library. The second part of the spotlight is about an experience in the past, a wonderful conference that left me with fond memories. I wish you could access that conference as easily as you can read the book of papers that were presented at the conference.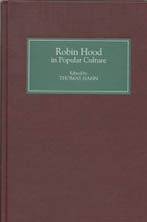 Robin Hood in Popular Culture: Violence, Transgression and Justice is a new collection of the papers that were originally presented at the 1997 conference on Robin Hood studies. It's a fascinating collection of articles on a wide variety of subjects.
Thomas H. Ohlgren's paper "The 'Marchaunt' of Sherwood: Mercantile Ideology in A Gest of Robyn Hode" takes a microscope to one of the earliest Robin Hood ballads, and it makes some intriguing suggestions about who the ballad was originally intended for. And while other papers examine some of the ballads, many other aspects of the legend are explored in the rest of the book.
Kevin Harty takes a look at Robin Hood films; Sherron Lux writes on the Maid Marians in film and television, and Laura Blunk examines the popular Robin of Sherwood television series. David Lampe explores Robin Hood novels. Sarah Beach's paper is on Green Arrow, a comic book superhero inspired by the legend. Linda Troost looks at 18th century Robin Hood musicals, Yoshiko Ueno writes about a 1927 radically left-wing play from Japan, and Gary Yershon shares his experiences in crafting a modern day Robin Hood play. Lorraine Stock examines Green Man imagery in the legend, and Kelly DeVries looks at longbow archery. Marcus Smith and Julian Wasserman provide a fascinating paper "In the Sheriff's Court: Robin Hood and American Jurisprudence, Or Who Is This Robin Hood and Why Are All Those Lawyers Saying Such Nasty Things about Him?" And then there are papers by Frank Abbott, Michael Eaton, Stuart Kane, John Marshall, Evelyn Perry and Lois Potter as well.
Also, this collection includes the plenary addresses by two of the foremost Robin Hood experts. Professor R.B. (Barrie) Dobson's Rymes of Robyn Hood ballad collection has been a classic for years. His contribution to this volume is "Robin Hood: The Genesis of a Popular Hero" -- an overview of the possible origins of the Robin Hood legend, written with more insight than the various real Robin Hood books out there.
Professor Stephen Knight, who wrote a landmark 1994 book on Robin Hood and has edited various anthologies since then, uses his address to look at where Robin Hood scholarship at present and offers suggestions about lines of inquiry that should be perused in the future. His article is called "Which Way to the Forest? Directions in Robin Hood Studies".
Many of the papers in this book are very readable. Some, however, I do find a bit "literary" for my tastes. But overall, Robin Hood in Popular Culture is an informative and interesting collection of Robin Hood studies.
Unfortunately, the book is too specialist for the general reader. If you're looking for a good introduction to the legend, I'd recommend works like Stephen Knight's Robin Hood: A Complete Study of the English Outlaw, J.C. Holt's Robin Hood and R.B. Dobson and J. Taylor's Rymes of Robyn Hood. But if you're familiar with those books and want to learn more, Robin Hood in Popular Culture is worth reading. I also think it would be a good book for specialists in related disciplines to consult. For example, an expert in 18th century theatre would enjoy Linda Troost's look at the Robin Hood musicals of that time.
As great an addition to Robin Hood studies as this book is, it's really (and unavoidably so) a pale shadow of the conference that inspired it.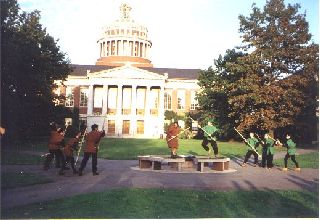 On October 16-18, 1997, the University of Rochester held the first international conference of Robin Hood studies, "Playing with Transgression: Cultural Transformations of Robin Hood". Nearly all the papers presented at the conference were collected in the volume discussed above, but there are many things that can't be preserved on paper or online.
For example, there were the fine performances -- both of music and drama. On the first day of the conference, the Eastman school of music staged a concert of Robin Hood music throughout the centuries. There were selections from Adam de la Halle's 13th century pastoral about a shepherd and shepherdess named Robin and Marion, classic Robin Hood ballads, and some wonderful numbers from Reginald de Koven's 1890 comic opera Robin Hood. We all hoped that a tape or CD would be made available, but ultimately that proved difficult.
On the second day of the conference, drama students performed the early play Robin Hood and the Friar (circa 1560). It was a delightful recreation of the folk drama once popular in England, complete with a lady (possibly Marian) played by a man in drag. Also, we were treated to Robin Hood ballads in America -- not merely a paper on the ballads. Instead they were performed and we were encouraged to sing-a-long.
And on the final day of the conference, some of the same students which brought de Koven's opera to life performed scenes from Gary Yershon's enjoyable pantomime.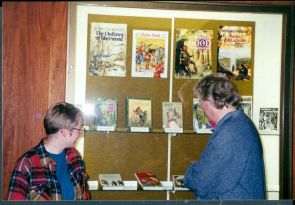 Also, the conference was the only North American stop for Kevin Carpenter's superb exhibition of all things Robin Hood. It had everything from old ballads to modern children's books from 26 different countries to plays to action figures to wall hangings based on Louis Rhead's classic illustrations.
But even better than the concerts, plays, exhibitions and the plays -- there were the people. I got to chat socially with people like Barrie Dobson, a man whose work I'd admired for a decade. Everyone made me feel welcome. I made a lot of new friends and that conference, and we still stay in touch.
Many of us re-assembled at Nottingham in 1999 for the second conference. The camaraderie was still there. Conference goers still tell me how the Rochester conference was one of the best conferences ever. We still look back on the conference with fond memories. And that's the true legacy of those three days in Rochester -- not merely a book that enhances Robin Hood studies, but lasting friendships and future conferences.
ROBIN HOOD IN POPULAR CULTURE; VIOLENCE, TRANSGRESSION, AND CULTURE, edited by Thomas Hahn. This book collects the papers from the first International Conference for Robin Hood Studies, held in 1997. I attended this conference, and can assure you the volume will contain several excellent papers -- including plenary addresses by Stephen Knight and Barrie Dobson, as well as a very important paper by Thomas Ohlgren. The book covers Robin Hood ballads, poems, novels, theatre, television, film and more.
Buy it on Amazon.com

Buy it on Amazon.co.uk

Buy it on Amazon.ca