THE DEBATE OVER ROBIN HOOD COUNTRY
INTERVIEWS WITH
DAVID HINCHLIFFE, MP FOR WAKEFIELD
and
GRAHAM ALLEN, MP FOR NOTTINGHAM NORTH
Conducted and transcribed by Allen W. Wright
Since the early days of the legend, Robin Hood has been associated with different places. Nottingham and Sherwood Forest in Nottinghamshire are the most familiar to modern audiences. Both Nottingham and Sherwood do appear in early 15th century references and ballads. However, quite a few of the ballads and references from that time refer to Yorkshire locations. Most noted among these is Barnsdale. About six miles north of Doncaster, this location's status as a forest is highly suspect but it does appear as Robin's base of operations in several ballads. Many modern fiction novels have incorporated Yorkshire place names - such as Barnsdale, Loxley (Locksley), Fountains Abbey and Kirklees Priory - into stories set in Nottinghamshire.

Some of the historical characters actually named Robin Hood have hailed from Yorkshire. In the 19th century, Joseph Hunter discovered a Robyn Hood who served in King Edward II's court in the 1320s. Hunter and others after him have theorized that this fellow is the same as Robert Hood, who with his wife Matilda, was a tenant of Wakefield, Yorkshire around 1316-17. It was theorized that this Hood may have been outlawed for taking part in the rebellion led by Thomas of Lancaster. While other likely historical Robin Hoods have been suggested over the years, the Wakefield Robin remains a favourite.

There has been some tension and debate over where Robin Hood hung his hat. Many in Yorkshire feel slighted by the over-abundance of Nottingham/Sherwood references. They think that Nottingham has nicked a Yorkshire hero. And there are those in Nottingham who feel folks in Yorkshire are trying to steal a Nottinghamshire legend. This debate reached Parliament in February of 2004 when David Hinchliffe, MP for Wakefield, raised the subject of Robin's Yorkshire origins in the British Parliament.

I decided to speak with two Members of Parliament about this issue. They were both very gracious with their time, and I'd like to thank both of them for agreeing to speak with me.

A slight caveat for people reading this page. History and genealogy are highly debatable subjects under the best circumstances. And when it comes to tracking down legendary characters or places, circumstances are far from ideal. So, please take what you read in these interviews with a grain of salt.
First elected to Parliament in 1987, David Hinchliffe is a Labour Party MP representing Wakefield. He has been the chairman of the health select committee since 1997, although he will be stepping down at the next election. One of Mr. Hinchliffe's proudest political accomplishments is persuading the government to build a new super-hospital in Wakefield.

This interview was conducted by phone on September 20, 2004.
AWW: When did you become interested in Robin Hood, and in particular, the Yorkshire connections with Robin Hood.
DH: I think I've always been interested. Obviously, as a small boy growing up in the UK we had the Richard Greene series [The Adventures of Robin Hood] on television. I recall being very interested by that. Of course, at the time, my father always said that if there was a real Robin Hood character, then he was from our part of the world. And I went to secondary school, and my head teacher - a man called Harold Speak - wrote a book, more of a pamphlet basically, arguing that Robin Hood was actually a Robert Hode who originated from Wakefield, and that was the source of the legend. So, I'd been very interested throughout my life.
AWW: What made you decide to bring it up in Parliament this year?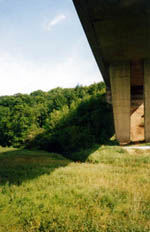 DH: Over a number of years I've been increasingly concerned about the way in which the Yorkshire aspect of the history has not been properly explored ... and in a sense, exploited. So people can actually make up their own minds, so that people are not guided to look at the sites in Yorkshire that do have a legitimate connection with the outlaw. But what I think really prompted me to seriously raise the issue in Parliament is I don't often travel by road. I usually travel by rail. But sometime last year, I travelled by road, and I was very concerned to see as you get near Nottinghamshire, you have a sign welcoming you to Robin Hood's country. I was, basically, quite offended by the suggestion that that was Robin Hood's country, either wholly or indeed in part.
AWW: What sort of action would you like to see taken in terms of promoting the Yorkshire tourism angle? Something I've noticed when I've been in Yorkshire, a lot of people don't know about the connections. I was in St. Mary's Abbey, York, about 10 years ago and I was on a tour of the abbey. The guide had never heard that the abbey was strongly connected to Robin Hood (home of an enemy) in the early ballads and the Renaissance plays. Fountains Abbey is reputed in the ballad and numerous children's novels to be where Friar Tuck is from, but the staff there was unaware of that story.
DH: What I'd like to see happen is that we have the issue taken much more seriously by, in particular, our museum services within Yorkshire. I've talked to quite a number of different people within the service within my own area. You probably know that some months ago, I sponsored a function at the House of Commons where a historian [David Greenwood] gave a detailed presentation on the Yorkshire connections, having looked at the early ballads and tracing the clues through. Particularly the Lytell Geste ballad, which does give you a fairly detailed idea of the key places that the outlaw is connected with.
So, basically it's getting Yorkshire to understand that if there is a history, it's much stronger in our county than it is in Nottinghamshire. I think we are only just starting to understand that. I think as well, the other side of the coin is that this argument from Yorkshire is pressing Nottinghamshire to do more about substantiating their own claims. I know in taking part in debates with Nottinghamshire MPs and people from Nottinghamshire that they are frustrated that their own county doesn't do more to evidence the genuine historical aspects of this story. Where as we are pointing to court records, we are pointing to genuine historical events, so much of what they are relying on is frankly mythical.
AWW: Certainly I know that the various real Robin Hoods - and not just the 14th century one from Wakefield but also one about a century earlier in York - are usually based in Yorkshire. But what do you think - both terms of tourism and education - about finding a place to be an entry site for this legend in York. Nottinghamshire has Nottingham and Sherwood Forest, which are mentioned in half the titles of modern Robin Hood books and films. What do you think could serve as a nexus for Yorkshire?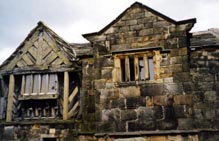 DH: Quite frankly, I think that Kirklees Priory has the most appeal in that sense. There's a personal connection that I've got there. You asked me how long have I been interested? In more recent times, I've got into my own genealogy, and I'm fascinated by some of the connections that my family has, indirectly, with this whole legend. My surname is uniquely from the West Riding of Yorkshire. It emanates from a settlement, settled by the Vikings in the southern Pennines. And the settlement disappeared, Hingclif, in the 1300s, we think as a consequence of the Black Death. But the earliest mention of my surname that I've come across is in 1270 when the prioress of Kirklees Priory has the name of Mary de Inchliffe. [This name is from a somewhat disputed list in Chas B. Hobkirk's 19th century book on the history of Huddersfield - AWW]. So, obviously she came from the settlement that my family came from the settlement that my family name came from and could well have been an ancestor of mine. So, the Kirklees Priory aspect really holds great fascination.
When you talk about the different Yorkshire versions, the strength of the one of Wakefield is that the Prioress of Kirklees in 1347 [the traditional date is 1247, shifted up a century by some to accommodate a 14th century Robin Hood - AWW] was related to Robert Hode's wife, Matilda. All the legends suggest that he was prioress who was a relation. We have a record that Robert Hode's wife was the cousin of the Prioress of Kirklees. That's a particularly strong claim. That's not disputed, it is a record.
AWW: What sort of concrete plans have you had for building up tourist centres in Kirklees and elsewhere?
DH: The concrete plans I've discussed with the chief executive of Wakefield council, for example. The way in which I believe we could very easily highlight the sites within the Wakefield district which have particular significance. For example, we know near to the centre of Wakefield, the house where Robert Hode lived in 1316 could be located to within a few hundred yards. And I think that's something that ought to be quite significant to Wakefield.
I would also say the legend of the Pinder of Wakefield [George a Green, the title character of an Elizabethan play who also appears in a Robin Hood ballad, where he fights Robin and joins the band - AWW], we have got some fairly detailed evidence as to where it's likely that Robin Hood fought with the Pinder of Wakefield. We have a hospital, as you may know, called Pinderfields. We know where the area was where they allegedly met and fought.
We have, not very far from Wakefield, Pontefract Castle which undoubtedly has a connection with the Robin Hood of Wakefield. The earl of Lancaster, for whom we believe Robin Hood fought in the uprising of the 1320s, he was located there - and indeed was executed there. Pontefract Castle is quite near the Barnsdale forest, which is where a lot of the ballads locate this character. And my understanding is that after the battle of Boroughbridge, the followers of the earl of Lancaster were outlawed into the forest Barnsdale.
AWW: In the Barnsdale area, in Wentbridge, there is what I think is the only blue plaque in Yorkshire related to Robin Hood. Are you planning to put more blue plaques up?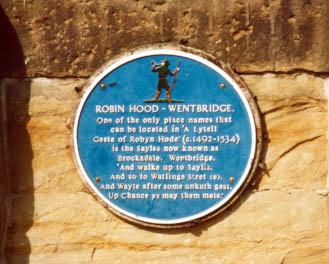 DH: I'd like to see people make up their own minds. I'm sure you understand that this issue is a matter of debate. We may, in my lifetime, never know the real true. But I think people should be given information to make up their own minds. I believe in Yorkshire, particularly the Wakefield area, we have so many connections that should be sign posted, that should be - as you say - the subject of blue plaques like the house where Robert Hood lived in Wakefield with his wife. I believe there's a very strong suggestion that he's the character on which the ballads are based. These should be signified in the way you're suggesting, like the bridge at Wentbridge is.
AWW: Have you given any thought to aligning with Nottingham?
DH: It's not that there's one or the other. It's highly likely that when Robert Hood was outlawed after fighting on behalf of the earl of Lancaster that he would have been pursued by the sheriff of Nottinghamshire - there wasn't a sheriff of Nottingham until the 1440s - who would have been acting on behalf of the monarch. So, yes, I think there will be a connection there. The historian that I had at the Commons made that suggestion that there was indeed a connection there. So, it's not either/or. And I suggested that we work together, but I think that for them to solely claim ownership of the legend is frankly pushing their luck too much.
AWW: As my website's title refers to both Barnsdale and Sherwood, I am someone who supports both strands of the legend. You've answered most of the questions I wanted to ask. But what do you think the appeal of Robin Hood still is today as a legend?
DH: The appeal is that he's a good British hero. My personal political perspective on it is that he was somebody involved in reputedly distributing from the rich to the poor, which I think is a genuinely good thing to have done. And perhaps New Labour ought to look at that one again. Politically, it's a principle that I subscribe to. He's somebody that has meant something to me and millions of others elsewhere in the world. Partly because it is a legend. It is a magical story, and the fascination is in trying to put some flesh on the bones. And quite frankly I think in Yorkshire we have more bones than anywhere else that flesh can be added to.
First elected to Parliament in 1987, Graham Allen is a Labour Party MP representing Nottingham North. He is particularly interested in the democratic reform process and self-published The Last Prime Minister: Being Honesty about the UK Presidency. His official website is at http://www.grahamallen.labour.co.uk/

This interview was conducted over the telephone on August 3, 2004.
AWW: I wanted to ask you about the recent debates and such over which county 'owns' Robin Hood, so to speak?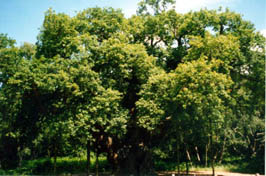 GA: Well, as a member of Parliament representing Nottingham, you may think that I might in some ways resent our friends in the north from Yorkshire trying to claim Robin Hood as their own. But I have a slightly different take on it. And that is, if people in my city of Nottingham - and I happen to be born and bred in Nottingham - aren't taking advantage of the tremendous recognition that Robin Hood has, then I'm not surprised that other people might want to steal him away. And use the global brand that is Robin Hood to boost their own areas or their own products in a way.
Robin Hood, whether he existed or not, no one can be absolutely sure. He may have been an amalgam of many people, or he may have been a real person. We're not too sure about that. But what is absolutely certain is that Nottingham Castle is in Nottingham. The remnants are still there. And Sherwood Forest is in Nottinghamshire, because again some of Sherwood is still alive. So, from that era and from the stories and the ballads and the myths, it's unquestionable that Nottingham Castle and Sherwood are in Nottinghamshire. Whether Robin Hood was a Nottinghamian or whether he came from this shire or whether he came from the next shire up, Yorkshire, no one can actually ever tell. But certainly, I would like to see my city and my shire, my county, taking full advantage of the fact that everyone from Beijing to LA knows who Robin Hood is, and fully using the legend to benefit our city. We have near-neighbours in Leicester and Derby and Doncaster and other places that no one else in the world has heard of, but everyone has heard of Nottingham, because of the legend of Robin Hood.
I'd like to see us firstly restore Nottingham Castle to its former glory. We have a Victorian mansion on the site of the castle at the moment. And without demolishing that, which is an historic building in its own right, we could certainly build around and have a part, or even all, of the castle in its glory, which was about 1190ish, when King Richard sought to take the castle back from his brother King John [March 1194 - AWW], to about 1400, 1450. From that point on the castle goes into a bit of a decline. But we could certainly rebuild the castle and use that as a monument to that Robin Hood era. Probably the stories talk about Robin Hood and Richard the Lionheart, so 1190 seems to be probably be the favourite.
I would also like to see the city exploiting the Robin Hood legend and using its full tourist potential by having a historical exhibit. We've got something not far from it in York called the Jorvic Centre which celebrates the Viking era. It's fantastic, and I'd like to see something from the medieval, Robin Hood era. Along with perhaps a theme park. I'm sure that Disney or somebody would be quite happy. There are lots of particularly entrepreneurial North American companies who might want to build something suitable. And we have the perfect site. There is a place where an international airport meets a national rail link meets the main motorway - freeway, as it were - the M1. That all comes together at a place called Kegworth, which is just on the southern edge of Nottinghamshire. There's lots of land available there, which I think could well be used for firstly an educational and historic park and perhaps alongside it a Robin Hood theme park.
Really, I think this is a wake-up call for people in Nottingham. Get organized to have some vision and create the investment package necessary to exploit all the potential that Robin Hood offers to his native city. And if we don't do it, then it will be a very firm, as we say in the country, kick up to derriere - to use the French - to people in Nottingham. And the Doncaster airport [in Yorkshire] using the name Robin Hood is that warning signal, and fellow Nottinghamians had better wake up.
AWW: Do you know if there's been much movement in restoring the castle? I know it couldn't be exactly like the medieval one, because after the Civil War when they levelled the castle, they also flattened some of the hill. At least, I was told that it was higher than present art gallery is.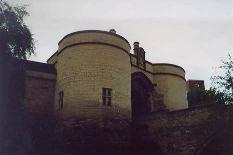 GA: That may well be true, but we certainly could have a very good effort at getting something comparable. There are certainly maps available from the 1640s of the castle layout at the point. I think we could do a faithful reconstruction. Not a toy town effort, but something that would cost many millions of pounds or dollars or euros. To approach Nottingham as people do now on the train and see this rather solemn Victorian mansion rather than a gorgeous, glamourous medieval castle is a great disappointment for people. I don't know why we're so precious about it in Nottingham. I think there's the idea of people prancing around in Lincoln green tights seems to put people off. And quite rightly. I think we can do it far more seriously than that. And I would certainly back projects which did that. We have rather thin and not very impressive exhibition called Tales of Robin Hood which wouldn't make it as a sort of 1930s Disneyland, let alone 2004.
AWW: Would you consider at all doing a joint effort with Yorkshire, if they wanted to be partners with you?
GA: Obviously you would need a physical location. So, it's rather planned out that Nottingham Castle would be the place to do that. I have no problem with business partners from Yorkshire, of course. But in terms of the location, I think you've got the site of the castle actually still there; so, let's go for it.
AWW: Have you had any nibbles or reaction after the recent debates?
GA: Not really. I think people in Nottingham are very complacent. And no one yet has come up with a vision that will sustain this idea through the rocky road to completion. I mean, there needs to be some serious local figure - either someone who runs the local council or the county council or someone with international pull to come out with some serious investment on a long term payback period.
AWW: Since I've been working on the site, every couple of years there is a report coming out that some local official wants to deny the Robin Hood legend. Sometimes it's just a simple, and very understandable, "there's more to us than Robin Hood", but sometimes it feels like they are ashamed of the legend.
GA: I don't know if it's any sense of shame. But it's just a failure to realize - probably because people are overwrought by the scale of the response that's necessary. Which is a pity, but again, it's what we expect of civic leaders. That they will say "Look, I may be long dead and in my grave, before we are going to set our stall out to achieve this particular dream." And you could start quite modestly with the castle walls., reinstate the original castle boundary and the castle wall. And then, bit by bit, move it on. Or the walls around the rock. So, you know, there's a lot that could be done.