COUNCILLOR JOAN CASSON
SHERIFF OF NOTTINGHAM, 2001 - 2002
Conducted and transcribed by Allen W. Wright
The legendary title of the Sheriff of Nottingham is still a real position -- a new sheriff is chosen each year. On September 6, 2001, I received a response from the currently serving sheriff, Councillor Joan Casson to talk about herself, the office and the City of Nottingham.

What follows is a brief biography in Councillor Casson's own words.

I was born in Widnes, Lancashire, but have lived and worked in Nottingham since 1972. I met my husband John in Liverpool when we were both students. I trained there as a science teacher. I then had a long break in my career to raise our two sons who both now have engineering degrees – I am a very proud Mum! When I returned to teaching I specialised in English and Special Needs and have maintained my interest in this area of Education. I was elected to the Nottingham City Council in 1995 and I have been Vice Chair of Environment Committee and the Chair of Licensing Committee. I am currently the Councillor for Lenton.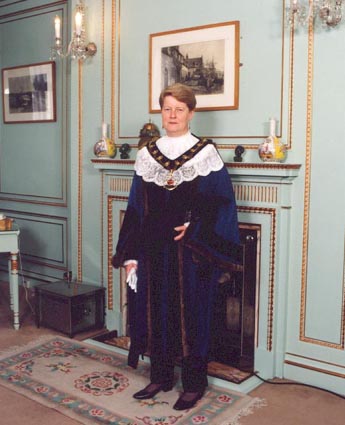 Councillor Casson graciously sent along some photos of herself in full sheriff's regalia. Her is her description of the sheriff's regalia:
The Chain is made of white and yellow 18ct Gold with enamel and pearls and was presented to the Sheriff's of Nottingham by Sir Harold Bowden in 1958.
The Chain consists of sixteen small crowns, each surrounded by a pair of oak leaves, at the junction there is a small pearl. The crowns are linked by 5 gold chains, these gold chains are very delicate and there movement resembles the flow of the River Trent.
The Robe is made of blue art silk trimmed with black velvet musquash fur on the front and sleeve edges, it is worn with white gloves, a Nottingham Lace jabot and cuffs.
The Hat is a silk cockade decorated with Ostrich Feathers
AWW: I understand that visitors to Nottingham can arrange to meet the sheriff. How is that arranged?
CJC: An appointment to meet with the Sheriff and have a conducted tour of the Council House, is arranged through the Civic Office ( Tel: 0115 9155012)
AWW: Can you briefly describe the role of the modern Sheriff?
CJC: I feel that a modern day Sheriff has key responsibilities that can be fulfilled by anyone who has the right attributes – enthusiasm, commitment, diplomacy, the ability to communicate and a sense of humour.
The responsibilities I refer to are:
a) Developing citizenship
b) Facilitating economic development
c) Promoting Nottingham and tourism
d) Building links between Nottingham City Council and the private, public and voluntary sectors
e) Enhancing pride in the local community
I have been democratically elected by my colleagues on Nottingham City Council.
AWW: How does it feel to hold the best-known and most infamous municipal office in the world? Is it what you expected?
CJC: Yes, I feel very privileged to hold this particular municipal office. I also feel proud as a woman to hold this interesting role, a role that many people stereotypically view as a preserve of a white male! I am the 4th Lady Sheriff in over one thousand years. I hope that this will be an encouragement to other women in their own particular roles. I have received a lot of positive encouragement from the women that I have met recently.
I have only been in the role for approximately three months and it is living up to my expectations. In my other life I was a teacher so I particularly enjoy meeting foreign students who are visiting and studying in Nottingham. These visits typically take place in the summer months.
AWW: How do you feel about your legendary predecessor?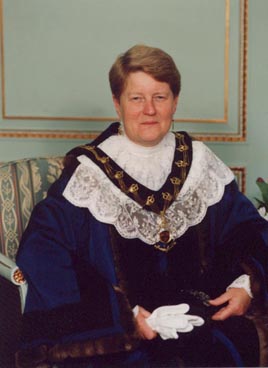 CJC: I was interested earlier last month (August 2001) that the Sheriff of Nottingham had been voted one of the most evil villains of all time – Hannibal Lecter being the most evil. I must say that I enjoyed reading the novels of Thomas Harris and his portrayal of Hannibal Lecter perhaps, wrongly, I have a nasty streak to my character as well.
I feel that my legendary predecessor would enjoy receiving his notorious accolade.
AWW: Could you please relate a few of your interesting experiences?
CJC: As I mentioned I have only been the Sheriff of Nottingham for three months. So far I have particularly enjoyed our twin city of Karlsruhe in Germany, meeting with colleagues there and being able to share in cultural activities.
I also felt privileged to meet a group of children from Belarus near Chernobyl, who were on an organised holiday to the City.
AWW: What do you think is the appeal of the Robin Hood Legend and how has the legend shaped the City of Nottingham?
CJC: If I can carry on with this answer with more information from a previous question. I was quoted in the local evening newspaper (Evening Post – Thursday 16 August 2001), as saying "Although the Sheriff of Nottingham in the movies is portrayed as a bad character, the image itself is a good one because it encourages people to visit Nottingham". " Today's Sheriff is basically a good character who is trying to redress the balance".
AWW: As a cultural ambassador of sorts for the city, what do you think are the most interesting sites in Nottingham? What hidden gems are there waiting for the visitors to discover?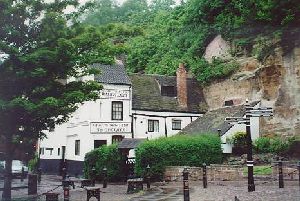 CJC: We have many interesting sites in Nottingham from all periods in history. We have over 400, well preserved, original Caves under Nottingham City Centre dating from the Saxon times. We have Wollaton Hall, built in 1588, set in a magnificent deer park. The City Centre itself has fine buildings and streets and boasts the oldest Inn in the world – The Trip to Jerusalem dated 1189. From the modern era we have two universities, two theatres and a new ice arena. Obviously these are only a small selection, we have many more gems waiting to be discovered!
AWW: As a City Councillor as well as Sheriff, what do you think are some of the most important issues in the city today?
CJC: As a City Councillor, I feel that three of the main issues in our city today are briefly:
a) Education
We need to provide a sound accessible education for all pupils in our city.
b) Transport
As in many British Cities we need to ease congestion on our roads, and make accessibility to our City Centre easier. Currently we are constructing a tram network.
c) Employment
We need to encourage economic development, to give long-term sustainable employment to all of our citizens.
AWW: Thanks for taking the time to speak with me.
Those interested in the City of Nottingham may wish to visit the following websites:
Nottingham City Council Online (The official website.)
Touring Robin Hood's Nottinghamshire on Britannia (A good guide to Robin Hood locations, along with a map.)
Nottingham Tour Home Page (Take a virtual tour of Nottingham.)
Special thanks to Dawn Milner in Nottingham for assisting with this interview.