CHANGES TO THE ROBIN HOOD LEGEND
[Note: This page is the section of a multi-part history of the Robin Hood legend. It covers 19th and 20th century children's stories and theatrical productions. If you want to start with a page meant for younger readers, check out Robin Hood: A Beginner's Guide.]
Robin Hood stayed popular. Serialized in 1838, published as a book in 1840, Pierce Egan the Younger's Robin Hood and Little John: or, The Merry Men of Sherwood Forest was a Victorian best-seller. Knight describes it as a "page-turner". Kevin Carpenter describes the features of Egan's book as "Terrific battles, terrible injuries, violent deaths, attempted rapes, amorous encounters, nocturnal abductions, incarcerations in damp dungeons, wailing Gothic ghosts, lecherous old villains".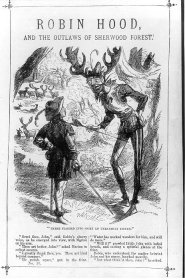 The success of Egan's Robin Hood serial meant that more books were produced, like the 31-part Maid Marian, the Forest Queen by J.H. Stocqueler who also wrote a Robin Hood comic opera. Also, there was the 40-part Little John and Will Scarlett; or, The Outlaws of Sherwood Forest, a serial named after "Allen-a-Dale The Comrade of Bold Robin Hood"; and a host of other series published by the penny press in Britain. Originally targeted for adults, the penny press soon began to cash in on the children's market. These publishers were not considered respectable, and the stories were aimed at working class kids. These publications are usually called penny dreadfuls.
Alexandre Dumas the Elder was said to have written two French Robin Hood novels, which were first published in 1872 and 1873, strongly based on Egan's work. (Dumas's only role may have been to find a translator/adapter for Egan's story, although the books became attributed to the famous author.) The first was Robin Hood, prince des voleurs [or Prince of Thieves, as it was known in the English translation.]
And the stories were indeed dreadful, as Kevin Carpenter's article "Robin Hood in Boys' Weeklies to 1914" describes in detail. Carpenter examines the history of Robin Hood stories that appeared in serial publications like Boys of England and Young Men of Great Britain. The Robin Hood serials of the mid-19th to early 20th century were filled with soap opera moments. In one serial, Friar Tuck performed over 30 marriages. There's over-the-top pseudo-medieval dialogue such as "A malison on thee, thou knave of the blackest dye!" Magical creatures like a wood demon and a sprite named Flip abound. And then there are the villains -- dastardly barons with names like Caspar Steinkopft, Sir Tristram Uggeleretsche (both from Egan), Baron de Beetelbrowze and Hugo Malair.
Stephanie Barczewski notes that the Norman vs. Saxons motif continued in the 19th century books and stage productions, becoming more extreme than it had been in Scott's Ivanhoe. According to the 19th century Robin Hood authors, Barczewski explains "Robin Hood's size, strength, and dexterity were all directly attributable to his Saxon blood, and the physical prowess would ultimately allow him, and his race, to triumph over their enemies." (Myth and National Identity, p.132) (The Norman / Saxon conflict is still present in the modern legend, but toned down from the 19th century extremes as certain world wars had caused pro-Teutonic racialist notions to fall out of favour.)
Barczewski has collected countless examples of 19th century "racialism" in the Robin Hood stories. These include Egan's Little John declaring "It is a Norman's nature to deal in deceit and trickery". In George Emmett's 1869 Robin Hood and the Outlaws of Sherwood Forest, Tuck sang "Findest thou aught foul or bad,/ Be assured 'tis Norman" and "Findest thou aught fair or just,/Rest quite sure 'tis Saxon."
Early into the 20th century, the penny dreadfuls were phased out. But while it had been shunned by respectable publishers a few decades early, now Robin Hood legend was appearing in upscale children's books.
Before the Victorian era, Robin Hood stories had been simplistic, but they were loved by both grown-ups and children. Soon, Robin Hood became almost exclusively a superstar of children's books. In the 20th century, literally hundreds of Robin Hood books for kids were published. Most read like prose version of the garlands, filled with episodic chapters taken directly from the 17th century ballads. So, sometimes you might get a feeling that if you've read one, you have read them all. Paul Creswick, Henry Gilbert and Roger Lancelyn Green wrote some of the most memorable Robin Hood children's' books. Green's book borrows not only from the ballads but Munday and Jonson's plays, Ivanhoe, Peacock's Maid Marian and many other sources that I've mentioned.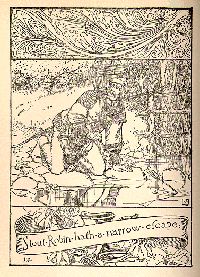 The stand-out classic of Robin Hood children's literature is Howard Pyle's 1883 The Merry Adventures of Robin Hood of Great Renown in Nottinghamshire. Pyle, an American Quaker, was also a superb illustrator, and it's not surprising that his book is still in print today. Pyle not only provides masterly illustrations but has a lively engaging text that weaves the previously unrelated ballads together. Pyle's Robin goes to meet Friar Tuck for the first time when he needs a priest for Allan a Dale's wedding.
Also, the Robin Hood of Howard Pyle is more wholesome than his ballad counterpart. In his prologue Pyle's Robin only kills a single forester - not the 15 killed in the ballad Robin Hood's Progress to Nottingham. And the Robin of the ballads never reacted like Pyle's Robin. "Gone was all the joy and brighteness from everything, for his heart was sick within him, and it was borne in upon his soul that he had slain a man." (Click here to read Pyle's prologue for Robin's adventure with the foresters and first encounter with Little John.)
Robin does cheer up, of course, and goes on to have many familiar adventures. But when he finally takes Guy of Gisbourne's life in one of the last chapters of Pyle's novel, it's said that Robin Hood hadn't killed man since his first adventure with the foresters. The chapter with Gisbourne's death adapts two ballads and the sheriff was killed in both of them, but in Pyle's novel, the sheriff's life is spared. (Click here to read Pyle's Guy of Gisbourne chapter.) In an earlier chapter which adapted the third fytte of the Gest, Robin Hood returns the loot Little John stole to the Sheriff of Nottingham. This cleaned-up, reformed version of the character would further Robin's standing as strictly a chilren's hero in stories told with much less skill that Pyle's Merry Adventures.
Pyle's contribution to the legend is partly responsible for Robin making the transition from penny dreadfuls to the better-written children's books. Pyle's pupil N.C. Wyeth went on to illustrate Robin Hood tales as well. Louis Rhead also followed in Pyle's footsteps as a superb writer/illustrator of Robin Hood stories.
Around the same time as Pyle, another American helped the legend of Robin Hood. Francis James Child published a ten-volume collection of English and Scottish ballads, the Robin Hood section (book V in the original, III in later editions) was even more extensive than Ritson's collection from a hundred years earlier.
And Robin Hood made it big on the American stage.
Throughout the time of the broadsides, the poems, Scott's and Egan's books, Robin Hood was still a star of the stage. In the 1700's Robin was the star of comic operas like 1730's Robin Hood, An Opera and 1751's Robin Hood: A New Musical. In the Victorian age, Robin became the subject of merry pantomimes. like the jokey Robin Hood and Richard Coeur de Lion from 1846. In the tradition of many pantomimes, this Robin Hood was played by a woman. In the play, Robin and his -- er, her -- men visited Fairyland. There was a fantasy element in other Robin Hood plays too, like the 1858 one where Robin was captured by the Gnome Demon. Supernatural elements were a stock element in the merry, holiday productions.
Robin Hood stage productions are common even in the present. Twang!!, a musical by Oliver composer Lionel Bart was a notable flop on the London stage in the 1960s. In the 19th century though, Robin Hood musicals were received better by their audiences.
A few months after his death in 1892, Lord Alfred Tennyson's (author of the Arthurian classic, The Idylls of the King) Robin Hood play, The Foresters, was produced in America with great success.
But Robin also dominated the American stage with Reginald de Koven and Harry B. Smith's 1890 musical, Robin Hood: A Comic Opera. In Britain, where the operetta was known as Maid Marian (not to be confused with DeKoven and Smith's 1902 American-only sequel of the same title) it was largely ignored. An opera version of Ivanhoe was playing in London at the same time. The Times of London review was mildly favourable to De Koven and Smith's musical, but said it was inferior to the competition (featuring some of the same characters), written by the master Sir Arthur Sullivan. But in America, the operetta was a huge success and was performed many times in New York from 1891 to 1944 -- an important early work in the American musical tradition. The 1944 New York Times review noted that Smith's book was quite dated, but the show's songs "O Promise Me" and "Brown October Ale" were fondly remembered. Although it is now largely forgotten, De Koven's musical is occasionally revived by local opera companies, such as the Ohio Light Opera company in 2004.
The show, originally performed by the Bostonians, did have a delightful, but dated, Gilbert and Sullivan manner with the sheriff singing about how he's never made a mistake, but someday he'd like to for variety's sake. Then, the sheriff goes on to coach his protégé, Gisborne, in the art of wooing women.
De Koven took Guy of Gisborne, a villain always quickly dispatched in the ballads, and made him a rival suitor of Marian and someone who would lay claim the Earl of Huntingdon's estates.
Those plot points, like many elements from Tennyson and de Koven, were picked up by others when Robin went from the American stage theatre to the movie theatre.
NEXT: Films and Fantasy (Movies and television appearances, plus science fiction and fantasy novels)
Sources and Further Reading:
Click here to view the general information sources used to write Wolfshead through the Ages: The History of Robin Hood.
Click here to view additional information sources used for this specific section.
Wolfshead Through the Ages: The History of Robin Hood is only a small section of a larger site full of information on the legend of Robin Hood.
If you're interested in purchasing Robin Hood children's novels, check the Recommended Reading page. Scroll down and you'll also find the De Koven comic opera.
Text copyright, © Allen W. Wright, 1997 - 2013.