Allen W. Wright
I was born in the 1970s in Hamilton, Ontario, Canada. I graduated from McMaster University with an Honours BA in History and English. I later obtained an additional degree from Ryerson University with a Bachelor of Applied Arts in Journalism. I have worked at the CBC, the Canadian Broadcasting Corporation.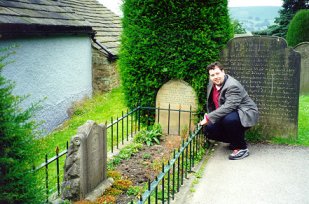 In early 1997, I started the Pook's Hill website, dedicated to the two Robins of English folklore, Robin Hood and Robin Goodfellow aka Puck. The Robin Hood section has grown very large and taken on a life of its own. I have taken part in television and radio documentaries and presented at many academic conferences on the subject of Robin Hood.
In 2003, I took part in a staged reading of Ben Jonson's The Sad Shepherd where I read the parts of Friar Tuck and the Puck-Hairy. I fear my performance was on par with the Athenian mechnicals of A Midsummer Night's Dream. But it was fun to personify those legendary characters.
A number of actors, students and teachers have used the information on my Puck site. I hope you find it useful.
Currently, I live in Toronto, Ontario. My interests include history, folklore, the Robin Hood legend, mythology, comic books, science fiction and fantasy, politics and many other things. I have been a vegetarian for about 10 years.
For more information on my interest in the hobgoblin legends, please read Puck: A Personal Journey.
Feel free to send me an e-mail. Please use a sensible and website specific title, relating to this website, for your e-mail as I am more likely to read it. Spam artists have started using generic titles like "hi".
© copyright Allen W. Wright, 1997 - 2004.