It was 4 am in Hamilton, Ontario on July 12, 1999. I had spent the night at my mom's, and we were just about to head out the door and to the airport for my second trip to Britain. The local newspaper, the Hamilton Spectator, had arrived. Imagine my shock when the front page carried a story about Robin Hood.
Robin Hood was gay, the article claimed. It also claimed this theory originated with and was supported by two men who I greatly respect. I was suspicious, but I knew in a few days we'd be attending the same Robin Hood conference, and I could find out more. It was an ironic start to my return vacation.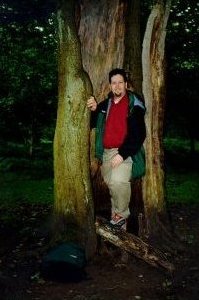 Two days later I was in St. Pancras station in London. There I met a friend and colleague from previous conferences. On the train ride to Nottingham we exchanged articles about the "gay" Robin Hood.
On arriving in Nottingham, we went to Nightingale Hall, part of the University of Nottingham. The second International Conference of Robin Hood studies was about to begin. Click here for a conference programme. It was a chance to meet old friends and some new ones. I met a few professors who had been interviewed for the infamous gay piece. And then I was interviewed by the Nottingham Post -- mostly for a "scholars from around the world come to Nottingham" angle, but I also offered my two cents, less than one British penny, on the gay controversy. I'll share those thoughts with you. I think having Robin Hood as a defender of gay rights is a fine addition to the legend. The legend has changed so much over the years. As for whether a "real" Robin Hood or even the ballad Robin Hood was gay -- how should I know? I would soon learn that the Sunday Times and Reuters had exaggerated in their articles and taken quotes out of context. (I was quoted accurately in the Post, I might add.)

No papers were delivered on the first day of the conference. Instead we toured Sherwood Forest.
When our group arrived at the Sherwood Forest Visitor Centre we were greeted by a man in green. No, it wasn't Robin Hood. It was "Blacke Dickon", a forester circa AD 1200. He was our guide through the forest. He showed us various trees of interest, like the Major Oak that I mentioned in my 1993 trip. He told us tales of what it was like to be a forester protecting the king's deer. Among the things I learned was of a blunt arrowhead made from a sawed-off cow's horn which was used to knock birds out of trees. He called this a "medieval boxing glove". The Robin Hood-inspired superhero Green Arrow used a more literal boxing glove arrow. I was amazed to discover there was indeed a historical precedent to the weapons of one of my favourite comic book characters. (I've won a boxing glove award from a Green Arrow site). It was a very informative and entertaining journey through Robin Hood's home.
And Dickon kept us safe. There were bandits lurking in the woods.
When our tour was over, I posed for pictures with Blacke Dickon and the outlaws of Sherwood. (Click on the highlighted parts to see more photos.) Most of the conference attendees attended a brief lecture on the scientific aspects of forest. But some of us made an early trip to the gift shops. I bought a lot of Robin Hood memorabilia on this trip.
After Sherwood, we headed to Southwell (apparently the residents pronounce it like the North American tourists do, although most people in Nottinghamshire say it as "Suth-ell") and saw the Minster.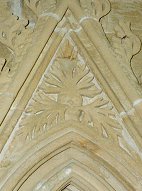 Parts of Southwell Minster have been around since Robin Hood's day, and in the late 12th and very early 13th century Southwell was covered by forest law. This cathedral has wonderful rounded Norman arches. The Minster's chapter house has many examples of the Green Man, a human head with foliage growing out of it. "Green Men" are a common sight in English churches, and some folklorists feel that Robin Hood is an example of the Green Man. One of our group has been studying Green Men for years, and she was in Seventh Heaven.
After that we had supper in the Saracen's Head, a 15th century coaching inn just a few minutes from the Minster. The Saracen's Head is also the name of the inn from the 1938 Errol Flynn Robin Hood movie, although the inn in Southwell is a bit too recent to have been visited by any real Robin Hoods. However, they say it's where King Charles I stayed just before he surrendered himself to Oliver Cromwell's forces in the English Civil War.
In the pub was a man that no one recognized at first. He was Richard Rutherford-Moore, "Blacke Dickon" out of costume. Besides being a tour guide, Richard has worked as a historical advisor and actor in the Sharpe and Hornblower TV series. He has also written a book on the Robin Hood legend and is working on two more. He kept turning up at the conference, and he made our stay in Robin Hood Country even more special.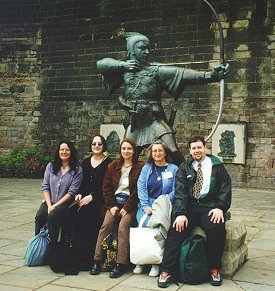 The next day we visited Nottingham. Once again Richard was our guide. We toured the castle grounds, posed for pictures with the Robin Hood statue. (Nottingham folk think it is very ugly and have called it the "world's largest garden gnome".) Then we went to Tales of Robin Hood tourist attraction. (I talked about both the Castle and the Tales in the my account of my 1993 trip.)
We travelled through the streets of Nottingham at a breakneck pace. We had to attend a lecture in a few hours. Among the more notable sites was St. Mary's church where Robin Hood went to pray in the ballad Robin Hood and the Monk. (I saw the outside of the church briefly in 1993. This time I got to look around a bit more.)
We came to Nottingham Trent University and heard a superb plenary address by Jeffrey Richards on the Television Robin Hood. Afterwards we saw the exhibition of Robin Hood children's books and comic books by Kevin Carpenter (who did a similar exhibition at Rochester and elsewhere) and David Blamires (who had staged an exhibition in Manchester).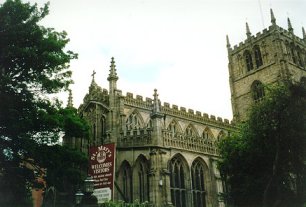 The next day was taken up with professors delivering interesting papers on a wide range of topics. I was especially impressed with Kevin Carpenter's paper on Robin Hood in Boys' Weeklies. In the evening we all hopped on a coach again and head for Nottingham. The Broadway Cinema had put on a special programme called "Robin Hood Rarities." (Keeping with the theme of the television Robin Hood. These were the first episode of the Richard Greene TV series of the 1950s, "The King's Fool" which is my favourite Robin of Sherwood episode, the first episode of Maid Marian and Her Merry Men, and 1980s kid's show segment on Robin Hood and Nottinghamshire and an episode of another British kid's show Michael Bentine's Potty Time.)
On Saturday I delivered my paper. I think it went over very well. Tom Hahn delivered the second plenary address on revival of Robin Hood scholarship in the 1950s. But I think everyone's attention was focused on Stephen Knight's "The Forest Queen". This was "the gay paper", or so the press had us believer. In fact, it was a paper about a 19th century novel named after Maid Marian. There was only one paragraph even suggesting gay readings into the Robin Hood legend. Not quite the new reading of 14th century ballads that the newspapers had said it was. There was much joking about the press coverage, Prof. Knight himself was very funny. To read Professor Knight's take on the gay themes in the Robin Hood legend and the media coverage of the issue, click here.
Supper was a "medieval banquet". Blacke Dickon had planned to show up in costume with a fake stag on his shoulders, plunk it down on the table and say "For the compliments of King Richard" recreating the banquet scene from Errol Flynn's movie. Unfortunately, the stag was off somewhere being used for something else. Too bad, it would have been a great moment. As it was, we made our own fun. Our table sang the 1955 Robin Hood theme ("Robin Hood, Robin Hood, riding through the glen"). And our forester Richard entertained us with ghost stories (some of which he was actually responsible for, as he's been known to impersonate a ghost or two just for fun) and other tales. We also met Chris Gibson, the former sheriff of Nottingham. (Yes, they still have a sheriff.) The dinner (for others) was the very appropriate choice of venison -- in a somewhat less than medieval chocolate sauce. As a vegetarian I dined on other fare (still excellent though).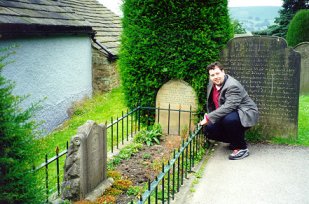 The final day of the conference was devoted to more trips to Robin Hood sites. Stephen Knight was our guide for the first part of the trip. Our first stop was Hathersage in Derbyshire. Here we saw Little John's grave. I'm told that the grave was excavated centuries ago and a bone belonging to a very tall man was found.
Then we headed across to Yorkshire. We drove through Sheffield. Part of this industrial town is Loxley, Robin Hood's legendary birthplace. We didn't stop to check it out though. I did spy from the coach one of those ubiquitous Firkin pubs, this one was called "Fitzooth and the Firkin". (Fitzooth is one of Robin's many "real" names).
We stopped for lunch in a pub, and our coach nearly fell into a mill pond. We ended up walking onto the nearby Kirklees estate.
This is the mother lode of Robin Hood locations. On private property with very rare access are the remains of Kirklees Priory. I stood in the last remnant of the Priory, in the very room where Robin Hood is said to have died and fired his last arrow. Then we walked to the grave of Elizabeth de Staynton, she was the prioress who killed Robin Hood according to some legends. And finally after a very long walk (he was dying, how far did that last arrow travel?) we reached Robin Hood's grave. It's been mentioned for hundreds of years, and there are references to Kirklees in early ballads.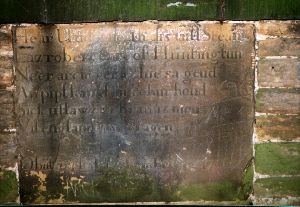 I saw Robin Hood's grave. Moreover, I was in the company of some of the top Robin Hood scholars, and it was the first time they had seen the grave too. It's unusual to get permission to see the place, and I'd like to thank David Hepworth for making it possible and Lady Armytage for letting us tour her lands.
Look, I know that chances are there wasn't a one, solitary real man behind the legend. And I know the chances are even less that such a man was actually buried here. But I was able to suspend my disbelief and lose myself in the moment.
Considering that I spent the day visiting graves, I might have had entirely too much fun.
Unfortunately, the little incident with the coach meant that we didn't have time to visit Barnsdale, Robin's medieval home base. Oh well, as I said about my 1993 trip, that's what return journeys are for.
The conference was enjoyable, but I wasn't finished with my trip to Robin Hood country.
Next I went up to Glasgow for three days to visit an old and dear friend. While in Scotland I visited Stirling and climbed the Wallace monument, dedicated to William Wallace -- the hero who's been called Scotland's Robin Hood. (Robin's also been called the English Wallace.)
And then I returned to Nottingham. I had decided to take in a few more sites.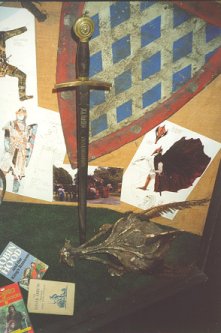 I stopped by the castle and was able to take a tour of the caves underneath. (I didn't have a chance to do this in my previous visits to the castle.) These caves were used to house guards, brew and store beer for the castle, hold royal prisoners (a Scottish king was once held in these caves), and used to overthrow Roger Mortimer as I discussed in my 1993 trip. I also purchased a print of Daniel Maclisse's Victorian painting of Robin Hood. I'd long admired this painting. And I stopped into the Tales of Robin Hood again to use the gift shop. It was here I got a glimpse of Albion, the magic sword from Robin of Sherwood along with other RoS knickknacks.
Then, I re-visited two old pubs -- the Trip and the Salutation (which I talked about in the 1993 section.) I got to see the Rock Lounge of the Trip which was carved into the castle rock. The Trip has a model of an old ship. Apparently there is a curse on this ship; anyone who cleans it will soon die afterwards. It hasn't been cleaned in a hundred years. And when it was moved a few years ago, a white witch was called in to purify the room. That didn't stop part of the castle rock from caving in a couple of days later. I also visited the caves underneath the Salutation again. The Robin Hood statue in those caves is gone. Apparently the Victorian ghost Rosie is still present, but I didn't see her either. I also stopped off at the Bell Inn. A history television programme checked into the claims of the various Nottingham pubs, and right now the Bell Inn is the earliest Nottingham pub to appear in the records. (The Salutation's building is older, and the Trip's caves are much older.) Naturally the other pub owners dispute this.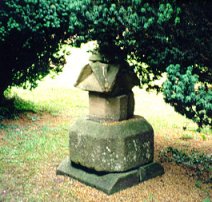 The next day, I went in search of Will Scarlet's grave in Blidworth, Nottinghamshire. It rests in the churchyard of another St. Mary's church. Changing buses at Mansfield (Scarlet's birthplace, apparently), I headed to Edwinstowe.
Edwinstowe is a village only five minutes' walk from the Sherwood Forest Visitor Centre. Here I visited yet another St. Mary's church. Local legend has it that Robin and Marian were married in this church. And there's a statue of the happy couple in the centre of the village.
And naturally I walked into Sherwood. I rested among its trees, wrote in my diary, bought more trinkets, and took more photos by the Major Oak. Waiting at the bus stop to return to Nottingham, I met somewhat intoxicated people in their late teens. They had an odd fascination with North America. (Well, America. No one ever seems that fascinated by my country.) They wanted to move here because we got movies months before they did. And yet they were rather morbidly making repeated inquiries about how easy it is to get shot in the United States. I wonder if any of these folks were the charming Edwinstowe children I had seen in that 1980s TV special a few days earlier. Perhaps their TV experiences scarred them for life.
The next day I left Robin Hood Country, and took the train to King Arthur Country -- Tintagel in Cornwall.
To see more photos from my 1999 trip to Robin Hood Country, please visit my Picture Gallery.
I still haven't seen all of Robin Hood's haunts. So, you can bet I'll be taking more holidays in Robin Hood Country. You can see the details of my next (July 2003) trip on the next page.
Click here to see Robin Hood Locations on Google Maps. I designed this map to showcase some of the sites discussed on this page, as well as others related to the legend. The map is interactive and allows you to zoom in, switch to satellite or Google Earth views. And if you drag the orange figure to the map, you can navigate at street level via Google's 360-degree photos. Many sites are visible from the road.