Robin Hood #4
May 1956
Published by Magazine Enterprises / Sussex Publishing Co., Inc.
"Sir Robin Hood"
Art by Frank Bolle, Script by Unknown
In 1998, a friend planned a Robin Hood roundtable at the SEMA (South Eastern Medieval Association) academic conference. Robin Hood isn't my only childhood interest. I've long been a fan of comic books. So, a paper on Robin Hood comic books seemed like a natural. In the 1950s, several companies published Robin Hood comics. But at the same time, the industry adopted a self-regulatory comics code that restricted the stories which could be told. I knew there was a paper there.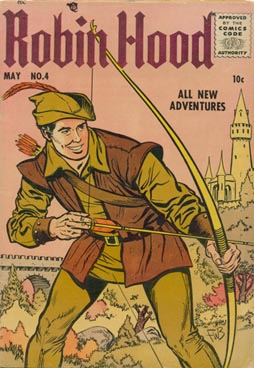 Trouble was, although I was a Robin Hood fan and a comics fan, I didn't really own any Robin Hood comics. So, I went out and bought some. This was one of the first issues I bought. And with this story, "Sir Robin Hood", I had my paper's title -- "Begone, Knave! Robbery is out of fashion hereabouts!"
A considerably revised version of my paper was presented at the 1999 Conference for Robin Hood Studies in Nottingham. This paper will soon be published in a proceedings volume.
Not only did this story inspire my paper's title -- I think it is a good, if somewhat bland, example of Robin Hood stories in the 1950s comic books. The plot -- a binding promise and a tricky solution -- would seem at home in 1950s superhero comics too. It's also a particularly odd variation of the classic tale of Robin's pardon.
I hope you enjoy it!
Introductory text copyright, © Allen W. Wright, 1997 - 2004.
© "Sir Robin Hood" comic story and art, copyright -- Magazine Enterprises, 1956
The comic book is reproduced without permission. But as Magazine Enterprises went out of business in the 1950s, I believe the comic book story has fallen out of copyright. If I am mistaken, please contact me.