Robin Hood and his Merry Men needed someone to fight. The audiences of the plays, ballads and movies needed someone to hiss at. Historians have looked at the careers of the real sheriffs of Nottingham, abbots of St. Mary's, and tried to uncover other villains in history.
The Sheriff of Nottingham
When it comes to the villains of Robin Hood, one title is at the top of the list, the Sheriff of Nottingham. But in the time of Robin Hood, the town of Nottingham did not have a sheriff. The first sheriff of Nottingham was created in 1449, about 70 years after the first literary reference to Robin Hood. So, were there no historical sheriffs for a historical Robin Hood to fight? Not exactly.

Even though the town itself did not have a sheriff until the mid-15th century, the shire of Nottinghamshire had one for centuries before that. And the sheriff of the county would have been called the sheriff of Nottingham by some. During the period of Robin Hood, the sheriff would have been in charge of both Nottinghamshire and neighbouring Derbyshire. (Also, in 1189, Prince John granted that Nottingham - the town - would have a town "reeve" that would hold many sheriff-like responsiblities for the town itself. In 1449, and for centuries afterwards, the town was essentially considered a county in its own right, and the term "sheriff" was then officially applied to both the Nottingham town and Nottinghamshire officials.)
The sheriff was, for the period most commonly depicted in films and children's novels, an unpaid position. In fact, the sheriffs had to pay the king a yearly sum to keep their offices. This sum was called the "farm" of the county. The sheriffs usually made far more from their various duties administering the shires (like collecting taxes) than the crown asked for. In 1204, King John said the sheriffs weren't expected to keep any of the county's revenue. That didn't matter because the sheriffs didn't report all of their income, especially from such sources as being bribed to look the other way, arranging false arrests and so on.
In 1170, Henry II led an inquest to make the sheriffs a group of professional administrators. King John held an inquiry in 1213. But there are tales of corrupt sheriffs for centuries to come. Dobson and Taylor among other Robin Hood historians say that perhaps tales of many corrupt sheriffs combined to make the nameless adversary of Robin Hood.
However, historians have gone looking to see if they can find one sheriff in particular who was the basis for Robin Hood's chief enemy.
Some sheriffs like Sir Robert Ingram, a choice of Dobson and Taylor, were in league with outlaws. This sheriff of Nottinghamshire and Derbyshire was an ally of the Coterel gang, notorious 14th century outlaws. Other sheriffs, like John de Oxenford, were outlawed themselves. Oxenford was the sheriff from 1334 to 1339. In 1341, Oxenford was accused of "illegal purveyance, abusing his authority in regard to the county gaol and its prisoners, as well as various extortions." (Bellamy, p. 28) He didn't show up in court and was outlawed.
John Bellamy's own candidate for the infamous sheriff also had legal troubles. Henry de Faucemberg was the sheriff of Nottinghamshire and Derbyshire from November 1318 to November 1319, and again between 1323-1325. At one point, Faucemberg was so in debt that he owed over 285 pounds to the king. There were also charges of extortion against this sheriff, a common complaint. Faucemberg was the sheriff around the time of the Robin Hood(s) of the 1320's, Bellamy's real Robin Hood of choice. In the early ballads, Robin Hood operated out of Yorkshire. Those looking for a real sheriff try to find a Yorkshire connection. Faucemberg was the sheriff of Yorkshire between 1325 - 1327. Also, Bellamy suggests he may be the same as a "Henry Faucomberg" from Wakefield, the Yorkshire home of Bellamy's real Robin Hood.
But much like the search for a real Robin Hood, some historians who search for the sheriff behind the legend like to go further back in time to the 13th century.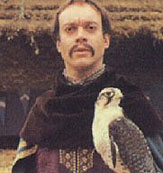 James Holt proposed Philip Mark, sheriff of Nottinghamshire and Derbyshire from 1209 to 1224. In the television series Robin of Sherwood, Philip Mark appeared in one episode, replaced the series' fictional sheriff, and was killed at the end. The real Mark was much more of a survivor. In 1213, King John had some sheriffs dismissed and arrested. Mark stayed. In the Charter (what would be called Magna Carta), there was a provision demanding the removal of aliens. Although Mark was not an English native, he kept his job. Much to the regret of many in Nottinghamshire.
Philip's conduct of his shrievalty included robbery, false arrest, unjust disseisin, and persistent attacks on local landed interests, both secular and ecclesiastical...
He was as zealous, thrustful, and dangerous under Henry [III, John's son] as he was under John. For 15 years on to 1224, when he finally lost his shrievalty, he envenomed the local politics of Nottinghamshire and Derbyshire.
-- J.C. Holt, The Northerners, p. 230.

Among other things, Mark demanded 5 pounds a year from the local burgesses. He clashed with Maud (or Matilda) de Caux, a wealthy widow who controlled much of Sherwood. Maud herself became a Robin Hood villain in the novel Locksley.
In a small booklet on the sheriffs, Nottingham historian Jim Lees points out that much of the real work was not done by the sheriff but the under-sheriff (or deputy sheriff). The deputy sheriffs would often be called the sheriff. And Philip Mark's deputy, Eustace of Lowdham, has been getting attention from Holt, Dr. David Crook, and other Robin Hood historians.
Eustace was the deputy for most of Philip Mark's time, and from 1217-24, Eustace performed most of the important functions of sheriff of Nottinghamshire and Derbyshire. Hence he'd be known as the sheriff of Nottingham. He was be the full sheriff of Nottinghamshire between 1232-33.
But it's Eustace's job between those two Nottinghamshire postings that interests Robin Hood historians. Eustace was the sheriff and later deputy sheriff of Yorkshire in 1225-6. He would have been responsible for collecting the chattels of one Robert Hood, fugitive. He also led a hunt to capture, and later hanged, an outlaw known as Robert of Wetherby. Dr. David Crook suggests, as mentioned in the Robin Hood section, that Wetherby and Hood might be the same outlaw.
So, Eustace has a Yorkshire connection, and he was even well known in the Barnsdale area (Robin's legendary home in the early stories); he has ties to a real Robin Hood, and he was the sheriff of Nottinghamshire.
Various works of Robin Hood fiction, most notably Henry Gilbert's children's novel, have used the name of an earlier sheriff. Ralph Murdac (or Murdach) was the sheriff in the waning years of Henry II's reign. However, he was replaced when Richard became king and granted several counties (including Nottinghamshire) to his brother Count John. The prince then received the revenue from Nottinghamshire, not the royal exchequer. But in 1194, Murdac (along with William of Wenneval) was a castellan (or constable) of Nottingham Castle when King Richard returned and laid siege to the town. Afterwards, they paid a penalty as Murdac and Wenneval's lands were seized.
And yet it's important to remember that the sheriff of the early stories isn't called Ralph or Eustace or Philip or Henry or John. He's referred to simply as the Sheriff of Nottingham. It's the sheriff's office, his position as corrupt local authority, that is important to the Robin Hood legend. So, it's unlikely that he is based after only one person.
Unlike the sheriff and many other Robin Hood villains, we know this fellow's name. In the possibly early ballad, he is a yeoman although he is called Sir Guy. In a 1475 dramatic fragment, a similar role is played by a nameless knight. There's one 16th century reference to Guy of Gisborne that doesn't mention Robin Hood. It might mean that Guy was featured in his own ballads, or this was just a reference to the Robin Hood ballad by title.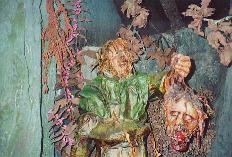 Unfortunately, while it's very easy to find historical sheriffs (or even historical Robin Hoods, as that was not an uncommon name), I don't know of a historical Guy of Gisborne. It's possible his name was inspired by the historical, and often legendary, knight, Guy of Warwick. One later ballad says Robin Hood's mother was Guy of Warwick's niece.
We might not know who Gisborne was, but we do know where Gisborne might have been.
There's a village called Gisburn in Lancashire, ten miles from one of the suggested homes of Richard of the Lee (another character from the Robin Hood legend, mentioned in the Merry Men section.) And in the middle ages, the town of Guisborough in the North Riding of Yorkshire would have been called Gisburne too. What's interesting about Guisborough is that it was home to the family of the Bruces, many named Robert Bruce (the family of the famous one). One of these Robert Bruces married the daughter of David, Earl of Huntingdon. In an Elizabethan play, Robin is called the Earl of Huntingdon. There's a slim chance that the playwright knew of this Gisburne connection when conceiving Robin's earldom. But it is unlikely.
One of the few other classic Robin Hood bad guys to have a proper name is Roger of Doncaster, the knight who helped conspire to kill Robin Hood in the Gest. Bellamy has found a few Rogers of Doncasters around the time of his choice for a real Robin Hood. Unfortunately, they are clergymen, not knights.
Mind you, that's not entirely inappropriate. Most of Robin Hood's other enemies were members of the clergy. But like the sheriff, they were only known by their title.
In the Gest, a greedy abbot of St. Mary's, York loaned a knight 400 pounds. The abbot planned to take the knight's lands. Robin, of course, gave the knight money to pay his debt to the abbot. The statute of Mortmain in 1279 would make forbid the church from seizing the lands of a knight. But it was possible to be granted an exemption. Thomas de Moulton, the abbot of St. Mary's Abbey, York from 1320-1359 was well-known for his money-lending. He also would have been abbot at the very time Robin Hood ballads were being composed. So, J.R. Maddicott has suggested that this Thomas may have been the abbot of legend.

Another clerical villain in the Gest was the Prioress of Kirklees. She was supposed to be Robin Hood's cousin, but she betrayed him. Draining blood was a common medieval healing technique. But the Prioress took too much blood out of Robin and killed him. Joseph Hunter, John Bellamy and others have looked to Elizabeth de Staynton as a real-life prioress of Kirklees (in Yorkshire) who might have inspired the character from the early ballads. Hunter believed that de Staynton or Stainton family may have been related to the Wakefield Robin Hood. Knowing that Elizabeth was a nun at Kirklees, Hunter speculated that she may have been the prioress between 1346-1347, the time when the early Robin Hood stories may have been set (and 100 years after the traditional date of Robin's death.) Bellamy dismisses this connection. According to David Hepworth, an expert on Kirklees Priory, a deed lists Elizabeth de Stainton has having been the prioress in 1370-1, much later than Hunter's speculation. Still some works of Robin Hood fiction have continued to use the de Staynton/Stainton name for the wicked prioress.
A popular later addition to Robin Hood's religious villains is the Bishop of Hereford. Robin forced this bishop to conduct a mass and dance in his boots. Stephen Knight suggests a few real life bishops that might be behind the legend. Adam Orleton was an unpopular bishop of Hereford in the reigns of Edward II and Edward III. He was charged with treason in 1322, in the same conflict that some historians believe a real Robin Hood participated in. Later he supported the rebellion by Edward II's wife Isabella and her lover Roger Mortimer. Orleton encouraged Edward II to give up his throne, and he may have had the former king murdered. Peter of Aquabella or Aigueblanche was a corrupt bishop from Henry III's time. In 1263, the king's opponents imprisoned this bishop. A 15th century chronicler, Walter Bower, said Robin Hood was a supporter of the baronial rebellion against the king, and presumably the bishop.
New Robin Hood tales are being told every year. And so, modern writers have to find new foes for Robin to fight. In the television series Robin of Sherwood, the outlaw battled Baron Simon de Belleme, a wicked sorcerer. Series creator Richard Carpenter said Belleme was inspired by a real person. Robert of Belleme (or Beleseme) was the Earl of Shrewsbury, a powerful lord under William II and Henry I. Belleme was known for his extreme sadism, and in 1102, Henry I (Richard I's great-grandfather) ordered Belleme into exile. This sadistic earl also have inspired Sir Isenbart de Baleme, the villain who murdered Marian in the early 20th century children's books by Henry Gilbert and later appeared in E. Charles Vivian's novel (a source for Robin of Sherwood).
But there's one group of Robin Hood's enemies and allies who deserve special mention in their own section. You see, we know quite a bit about this family of characters. They will be covered in the next section.