CHANGES TO THE LEGEND
Revolutions and Romanticism
The street ballads were being constantly printed, but the Gest, the popular medieval ballad, was almost forgotten. That is until Joseph Ritson published his collection of Robin Hood tales in 1795, Robin Hood: A Collection of all the Ancient Poems, Songs and Ballads, now extant, relative to that celebrated Outlaw. It wasn't the first ballad collection, but it did have more scholarly footnotes and a greater adherence to the original text than most.
The book was a smash hit, and remained so for the next 100 years; it was continually reprinted. Ritson included a 12-page summary of Robin's life. It recycled old points like the Locksley (Loxley) birthplace from the 1600 Sloane manuscript, and Stukeley's Fitzooth family background. But it also made Robin a hero after Ritson's own heart.
His Robin didn't give up venison to suit Ritson's vegetarianism. However, Joseph Ritson was also a firm believer in Tom Paine and the French Revolution. Ritson even kept the new and short lived French Revolutionary calendar. He made Robin Hood a fighter for freedom against tyranny.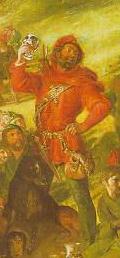 Nearly 25 years after Ritson, Robin Hood appeared in several novels and poems. And although many of the writers were opposed to Ritson's radical politics, their Robins also fought tyranny -- Norman tyranny in particular.
The Normans were originally Viking raiders who in the 10th century were offered a piece of prime French real estate, if they'd keep the other Vikings from raiding France. A century later, the now French-speaking Normans were doing quite well for themselves. And in 1066, the Normans, led by William the Conqueror, invaded England. William took over and suppressed the Saxon inhabitants of England (much like the Saxons suppressed the Celts hundreds of years earlier).
By the time of King Richard I and his brother, John, (when most Robin Hood stories were now set) the whole Saxon versus Norman conflict had cooled. But that didn't stop Sir Walter Scott from making the Normans the villains in his novel, Ivanhoe.
Robin Hood and his men were only supporting players in Scott's novel, providing much needed back-up to the title character. Still, Robin's appearance in Ivanhoe influenced later tellings of the story. For example, through most of the novel, Robin goes by the name of Locksley, which Scott says "From the ballads of Robin Hood, we learn that this celebrated outlaw when in disguise, sometimes assumed the name of Locksley, from a village where he was born". Robin did this in the ballad of Queen Catherin. But I think it was Scott's use of "Locksley" which turned Robin (particularly the Robin of TV and movies) from Robin Hood, born in Locksley/Loxley into "Robin of Locksley" who only used Robin Hood as an alias.
The success of Ivanhoe was simply astounding. Within a few months of its initial publication, there were at least six stage versions of the story - often competing for theatre goers attention on the same night. It has been adapted into operas, spin-off novels and comic books. And usually, Locksley and the other Robin Hood characters make an appearance in these adaptations. Ivanhoe was one of the most read novels for generations, and so its effect on the legend is not surprising. While the Robin Hood of the novel is not that different from his ballad counterpart, many of Sir Wilfred of Ivanhoe's characteristics later became associated with Robin Hood. Sir Wilfred is an ex-Crusader who is disinherited and estranged from his father. Ivanhoe fights Normans and rescues his lady love. None of these plot points appear in the Robin Hood ballads, but they are now a part of Robin's character in most modern movies and novels.
And while Will Scarlet does a similar trick in a long-lost version of the Queen Catherin ballad, Ivanhoe features the first time that Robin Hood wins the archery contest by splitting an arrow. Robin Hood filmmakers have found this image to be irresistable.
Around 1820, there was a resurgence of interest in Robin Hood. Not only was there Scott's Ivanhoe, but Robin starred in other novels such as the more liberal and satirical Maid Marian by Thomas Love Peacock, ballad-like verse stories by Leigh Hunt (which also used the Normans as arch-baddies), and poems by the likes of John Keats.
Since the 1600's, writers began to view Sherwood with a nostalgic eye. The fondly remembered forest and its outlaw tenants were perfectly suited to the romanticism of the 1820's.