ADAM GREENWOOD
of
THE ROBIN HOOD EXPERIENCE
(Formerly The Robin Hood Legacy)
The Robin Hood Legacy tourist attraction opened in 2016, very close to the gatehouse of Nottingham Castle. It was later re-named The Robin Hood Experience. It is currently the only attraction in Nottingham solely dedicated to Robin Hood, replacing The Tales of Robin Hood which had closed its doors in 2009.

The attraction is managed -- and now owned -- by Adam Greenwood. He also plays the role of Robin Hood at The Robin Hood Experience.

Adam Greenwood has also written a number of novels. His first Robin Hood novel was Robin of the Wood: Legend in 2010. In 2013 he followed up with two books in The Legacy Saga -- Robin of the Wood: Rebirth and Robin of the Wood: Destiny. More are to follow.

For more details on The Robin Hood Experience, check out their Facebook page.

This interview was conducted by e-mail in October 2017..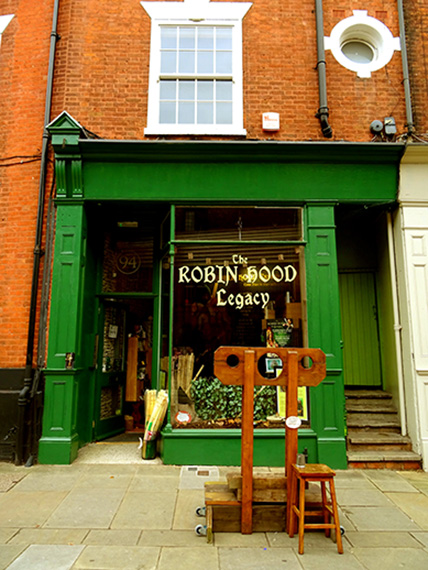 AWW: What can visitors expect to find at The Robin Hood Legacy?
AG: It's an adventure back through time – a walk-through interactive attraction based on the legends and ballads of Robin Hood. The first four rooms each contain a different set-piece from the stories with a different character or characters with a projected face. They interact with the visitors and tell them their part of the story.
After that, visitors are invited to the "Outlaw's Training Room" where they can practice archery and sword-fighting, try on disguises, make wanted posters for their friends and family and colour pictures of the characters. There is also a large collection of both fiction and non-fiction books for visitors to enjoy.
The final room is a museum with medieval artefacts, movie and TV props, old toys, art and other Robin Hood-themed treasures.
AWW: What's your favourite thing in The Robin Hood Legacy?
AG: I love the Sherwood Forest environment we've created. I don't get out to the real Sherwood Forest nearly as often as I'd like to but a few minutes in there each morning before we open to the public can give me the same sense of peace. We've used a lot of real branches foliage in there and the floor is scattered with fallen leafs collected around Nottingham so it has a very authentic feel and smell.
AWW: How did the attraction come about? What was involved in designing it?
AG: The concept was the brainchild of local businessman David Ward. He hired a local production company to work on the audio-visual aspects and this company happened to be owned as a friend of mine who brought me on board as a story consultant. After our initial meeting, I drafted a concept script including the characters with projected faces like I had seen at similar attractions.
After meeting with me, David hired me not only to manage the attraction and be the resident Robin Hood but also to create a revised script and assist in the design and building of the attraction.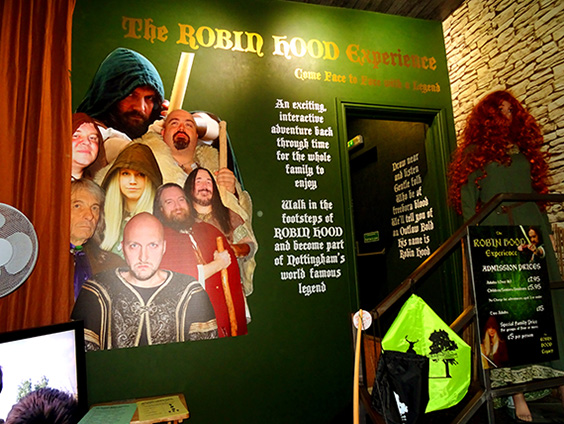 Towards the end of our first year of operation, David decided he would like to retire and we agreed on a deal for me to take it over, with the help of my backers. It's all been quite a whirl-wind but I cannot deny that owning and being resident Robin Hood at Nottingham's only dedicated Robin Hood attraction is an absolute dream come true!
Since taking over, I have, with the help of my amazing team, made some changes to the décor and completely altered the room which is now the Outlaw's Training Room but we have lots more changes planned for the coming months!
AWW: What would you most like to add to The Robin Hood Legacy? What item would be the Holy Grail for the memorabilia collection?
AG: To be fair, I'd say we already have it! The jewel in our collection is the original Herne the Hunter costume from the fantastic Robin of Sherwood TV show, which was previously displayed at the "Tales of Robin Hood" attraction for many years before it closed.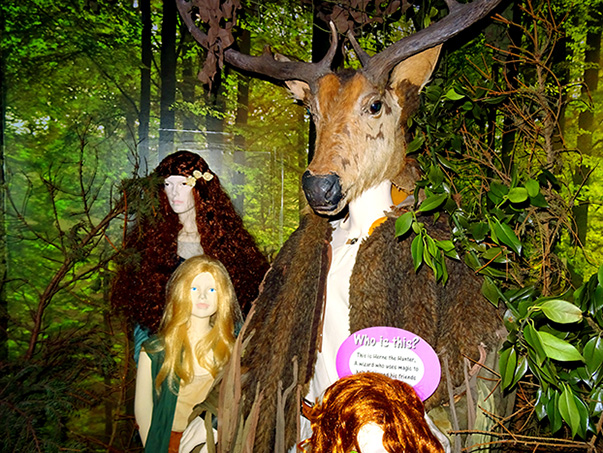 I'd love to have a Silver Arrow, 'though, or a historical object with some real (or at least traditionally-ascribed) connection to Robin Hood.
AWW: What joys and challenges come with running a Robin Hood tourist attraction in Nottingham?
AG: The greatest joy is definitely seeing people's reactions when they meet Robin Hood and the other characters. We also get a lot of positive responses from people happy to see a Robin Hood attraction in the city again, something that has been lacking since 2009.
As with any tourist-focussed business, footfall can vary hugely throughout the year so the biggest challenge is sustaining the business through the leaner winter months. We're doing all we can to spread the word and encourage visitors from far and wide – hopefully this interview will help!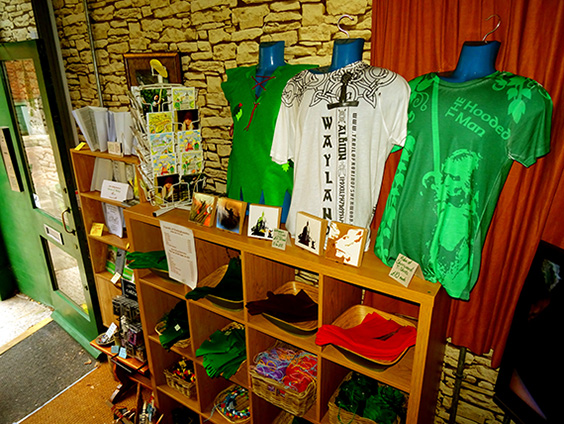 AWW: What were your own childhood experiences with the Robin Hood legend?
AG: I've been a fan for as long as I can remember but, during my childhood, when I lived in Surrey, we had several holidays in Yorkshire and would often stop in Sherwood Forest on the way home. On one occasion, I remember meeting a performer who introduced himself as one of the many bad outlaws who had taken and dishonoured the name of Robin Hood. He was giving a presentation involving the chance to have a go at shooting a longbow. He told us he was suffering in Hell for his crimes (including betraying the name of Robin Hood) but that he was allowed out occasionally to give talks such as this and that, by doing so, he hoped to one day earn his redemption. This encounter has stayed with me ever since and, I am sure, proved quite an influence on my books.
I also remember visiting the "Tales of Robin Hood" on one visit and loved it. I was very excited to see it was still there when I visited many years later, as an adult. It is sadly missed by many in Nottingham but I hope my own venture goes some way towards filling that gap.
AWW: You've written some Robin Hood novels. I was impressed with your idea of Robin Hood being … well, a Legacy – a name passed onto different people. How did your first book Robin of the Wood: Legend come about?
AG: Would you believe it was actually this site that provided the impetus? I was reading the section "The Mythological Robin Hood" as well as other descriptions of lesser-known characters and the story started to form in my head. I'd be lying if I said Robin of Sherwood wasn't a big influence too! I wanted to do something a little different with the story, to stand out against the many other books and movies out there.
The story changed quite a bit during the writing but I returned to some of the ideas with my later books.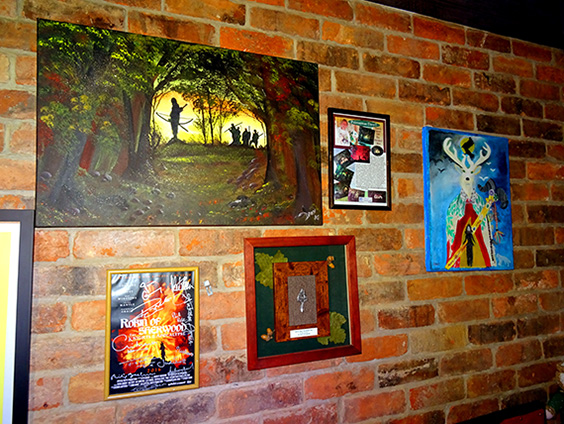 AWW: Wow, thanks. It's always nice to hear my site helped if even in a small way. When you revisited the Robin Hood legend with the Outlaw Legacy saga, most of the magical elements were not present in Rebirth, although magic seemed more of a factor in Destiny. What are your thoughts about the role of magic in the Robin Hood tradition, and why did your approach shift across the novels?
AG: Legend takes place in a totally magical world, like a Fairy Tale. Initially, my plan for Rebirth was for it to be the real-life story behind Legend's fantasy but the characters took on a life of their own.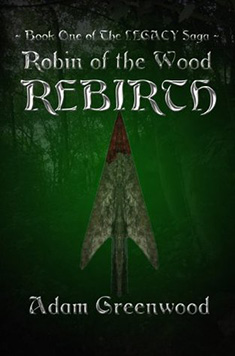 I'm interested that you notice there's more magic in Destiny than Rebirth, that was an intentional choice. There are certainly some magical elements in both but I agree they are more prominent in Destiny. I think this is because I was originally intending to write one long book but ended up breaking it into three. Destiny covers a much broader period of time, around thirty years, compared to Legend where the main action takes place over a little less than two years. Since it covers more life-events, I think it was natural for the magic to be more apparent during this part of the story.
Within the continuity of Rebirth and Destiny, Legend exists as a story told by Alan-a-Dale inspired by an earlier Robin Hood he had been a close friend to. I'm also working on a prequel that tells the story of that Robin and his gang.
As to the idea of including magic in Robin Hood stories in general, I believe that magic is a subtle but real part of every-day life and folk in medieval times believed that even more strongly. Magic, faeries, elves, good spirits and dark forces weren't so much something to be "believed in" as an accepted reality like we take electricity and the internet for granted. It makes sense to me that this world-view should be represented in stories about people of that time.
AWW: One of the most notable aspects of your Robin Hood novels is that sense of family. By Destiny, Robin and Holegn have a large extended family. What appealed to you about making Robert of Huntingdon a family man?
AG: That happened organically really. I started off by writing about Robert and Holegn in the early part of their life when they are in their mid-to-late teens but, as the story continued and it became clear that I was going to be following them through to the end of their life, it made sense that they would have children.
As with many families in pre-industrial times, I imagined they would have children of many different ages, with some grown to adulthood while their younger siblings are still being born. As the child characters aged they grew into very interesting characters in their own right and I found I very much enjoyed writing them. It also gave me a chance to create more completely original characters of my own rather than my own versions of established characters. Without giving too much away, it also gave me the opportunity to work in more than one interpretation of some of the traditional characters.
AWW: You've also written books featuring Santa Claus and his family. And in Nottingham: A Dark Tale of Christmas Spirits, you gave the Sheriff of Nottingham a Dickensian Christmas Carol experience. What appeals to you about Christmas traditions?
AG: Along with Robin Hood, Christmas has always been something of an obsession of mine and there is a lot of crossover between many of the Christmas/Santa traditions and a lot of the folklore that has been integrated into the Robin Hood traditions.
As I say in the introduction to Nottingham, every author has a book they wish they had written and mine is A Christmas Carol. It's a story that has been adapted and re-told so many times in so many ways with almost any type of characters you can think of so I decided to become part of that grand tradition and write my own version with my own characters. It was fun to "mash up" my three different "worlds" into one story!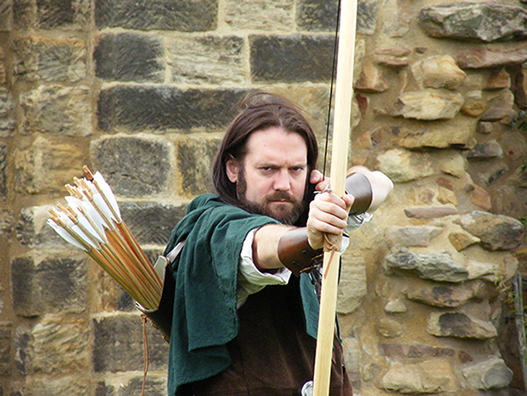 AWW: I understand that you first dressed up as Robin Hood to promote your novels, and you've continued playing Robin Hood for visitors at The Robin Hood Legacy. What's it been like to step into the role of a legend?
AG: It's an amazing privilege. When people see me, they're not seeing Adam or even just a man in a costume, they're seeing Robin Hood. One memory that will stay with me forever is a grandfather shaking my hand and telling me, with total sincerity, that I was his childhood hero. It's also great fun to walk around the city chatting to the public, posing for photos and waving at people. I love how happy everyone is to see Robin Hood.
I also feel a huge responsibility. Since people looking at me are seeing Robin Hood, I have "his" reputation to uphold and to make sure the memories people carry through their lives of the time they met Robin Hood are good ones.
AWW: What do you get asked the most?
AG: Was Robin Hood real?
AWW: That's what I get asked the most to. I'd like to try out something new – well, new for me. For 20 years, James Lipton – host of Inside the Actors Studio – has concluded his interviews with a series of 10 questions adapted from the Proust Questionnaire. I'd like to ask five of those questions – but I'd like you to answer them in your persona of Robin Hood.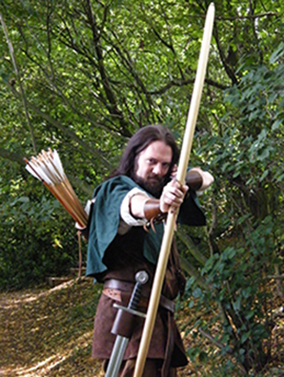 AWW: What is your favorite word?
RH: Ale! Especially if it's preceded by "Would you like some..."
AWW: What is your least favorite word?
RH: Sheriff! It leaves a very bad taste in my mouth when I have to say it and I can practically smell him just thinking the word!
What turns you on?
RH: Snuggling with my lady beside a crackling bonfire on a clear autumn night.
What turns you off?
RH: Anything to do with the Sheriff!
If heaven exists, what would you like to hear God say when you arrive at the pearly gates?
RH: "Oh wow! Are you REALLY Robin Hood?! "
AWW: Thank you, Robin Hood.
AWW:And to speak with Adam again for a minute, what would you most like people to know about The Robin Hood Legacy, and where can we find more information?
AG: What I'd most like people to know about The Robin Hood Legacy is that there's something for everyone there and we have plenty of special events, not just the normal experience. People can also book me or any of the other characters to appear at their own events.
The best place to find up to date information and to contact us is through our Facebook page:
https://www.facebook.com/robinhoodexperience/
AWW: Thanks again.
AG: My pleasure!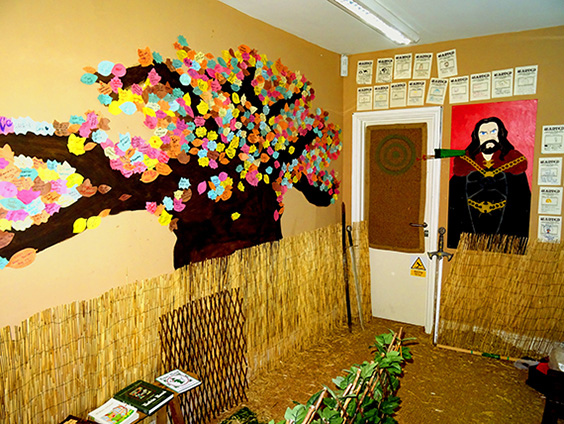 If you enjoyed the Adam Greenwood / Robin Hood Legacy interview, you might also like:
Adam Greenwood's novels on Amazon
| BACK TO: Steven A. McKay | TOP | CONTENTS | FORWARD TO: Jennifer Ash |
Interview text, © Allen W. Wright, 2017.